Last Updated on September 5, 2021 by Guillermina
Searching for a perfect and easy dessert for parties, try these mini fruity cheesecake tarts with a graham cracker crust. These mini fruity cheesecake tarts have vanilla flavor, fruit topping, and cream cheese ideal for any day. 
Moreover, the mini version of cheesecake is super cute and better, in my opinion. The mini fruity cheesecake tarts are excellent finger food with a crunchy graham cracker crust. In addition to that, it has light flavors from cream cheese and fruits, which are the perfect desserts. 
Besides, cheesecake is the perfect dessert for every occasion. But, you can serve it for picnics, gatherings, and parties. Also, it is suitable for serving many guests with these mini versions. 
Furthermore, this mini fruity cheesecake tart recipe is also good for brunches with friends. The main reason is that it goes well with any meal. Find it hard to decide if you wanted a fruit tart or a cheesecake? Well, this cheesecake recipe is both. 
Additionally, mini cheesecake tarts are more manageable than regular cheesecakes. You do not need any special utensils for these mini cheesecakes. And the recipe is really easy to make. With that, enjoy the best of both with the visually pleasing appearance of this mini fruity cheesecake tart. I can guarantee you that you will amaze everyone with this dessert! Try making this recipe with your kids and family. Likewise, share this with your loved ones. 
What You Will Need In Making Mini Fruity Cheesecake Tarts With Graham Cracker Crust
Ingredients For Mini Cheesecake Tarts With Graham Cracker Crust
For The Crust
1 1/4 cups of crushed Graham or Graham cracker crumbs

3 tbsp of packed brown sugar

5 tbsp of melted unsalted butter
For The Cheesecake
8 ounces of softened cream cheese

1/4 cup of sour cream kept at room temperature

A piece of an egg at room temperature

1/4 cup of sugar

1 tsp of vanilla bean paste or regular vanilla extract
For The Topping
1/4 cup of fresh lime juice

1/4 teaspoon of cornstarch

Two cups of any fresh berries of your choice. You can use raspberries, blueberries, blackberries, or sliced strawberries, or a combination of your choice.

1/4 cup of granulated sugar
Equipment For Mini Cheesecake Tart Recipe
Mixing bowls

Measuring cups

Measuring spoons

Muffin pans or cupcake pans

Cupcake liners

Electric mixer

Cooling wire rack

Small shot glass with a flat bottom

Saucepan

Pastry brush
Step By Step Instructions In Making Mini Fruity Cheesecake Tarts With Graham Cracker Crust
For The Cheesecake And Graham Cracker Crust
Step 1
Before anything else, make sure to preheat the oven to about 350 degrees Fahrenheit. Then, line each cup hole of your 12 muffin or cupcake pans with cupcake liners. 
Step 2
In a mixing bowl, stir together your crushed graham or graham cracker crumbs, brown sugar, and melted butter. After that, combine till you reach a sandy texture.
Step 3
Afterward, scoop 2 to 2 1/2 tablespoons of crushed graham mixture. And place it on each cup hole lined with cupcake liners. After that, press the crumb mixture into each cupcake liner using a small flat bottomed shot glass. Or you could use any similar object to pack the crust easily. 
Step 4
Next, place your room-temped cream cheese in a different mixing bowl. And ensure to beat it using an electric mixer at a medium-high speed for a minute. Or beat until it becomes fluffy. Then, add your room-temped sour cream and beat it for another minute. 
Step 5
Afterward, beat in the egg, sugar, and vanilla bean paste until there are no visible lumps. Because of that, you may use pure vanilla extract. However, using the vanilla bean paste adds much flavor and adds tiny bean flecks. 
Step 6
Then, divide the mixture evenly, filling about 2 to 2 1/2 tablespoons of each cheesecake crust. Afterward, bake your mini cheesecakes tarts for 18 to 20 minutes. Or bake until your cheesecakes start to brown. 
Step 7
Once the cheesecakes are okay, remove them from the oven. Then, allow them to cool completely over the counter or on a cooling wire rack. After that, place the cheesecakes inside the refrigerator for at least 3 hours. Or you can refrigerate them overnight.
For The Lime Syrup
Step 1
First and foremost, take a small saucepan and place your lime juice, sugar, and cornstarch. Afterward, put the saucepan over medium-low heat. Then, stir the mixture until it boils. And make sure to cook it for about a minute. 
Step 2
After that, remove the small saucepan away from the heat. Afterward, ensure to let the mixture cool down to room temperature. The mixture will thicken as it cools. With that, make sure to set it aside.
For The Mini Cheese Tart Recipe Assembly
Step 1
First of all, assemble the cheesecakes close to your planned serving time. Then, use your pastry brush to brush lime syrup on the top of each mini cheesecake. 
Step 2
After that, place the berries of your choice on top of each mini cheesecake. And brush them again with lime syrup. 
Step 3
Next, place your mini fruity cheesecake tarts inside the refrigerator or chiller until you are ready to serve them. Then, serve and enjoy!
Tips and Tricks In Making Cheesecake Tarts With Graham Cracker Crust
To make the perfect cheesecake, ensure that all your ingredients are at room temperature before using them. This process is essential to avoid having lumps.
Also, take your cream cheese, sour cream, and eggs out of your refrigerator before making this recipe. Moreover, you can use a stand mixer and even a hand mixer for this recipe.
When using vanilla bean pods for this recipe, ensure that your pods are at room temperature. Doing this achieves a smooth batter. Also, fruit toppings like berries will not stick to the cheesecake tart. Keep in mind that it serves as a topping.
If you added the fruit topping to your cheesecake tarts, consume it within a day. Likewise, it would be best to add the berries on the same day as served.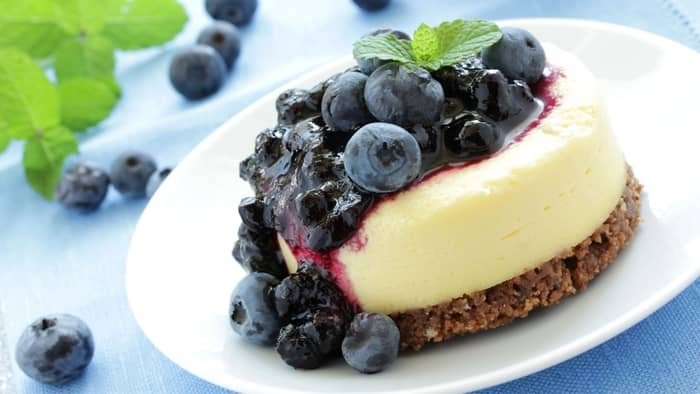 Furthermore, you can store the cheesecake tarts without the toppings inside a covered container. With that, place the container inside the refrigerator, and the mini cheesecake tarts will last up to four days. You can also store the mini cheesecake tarts inside the freezer, and they will last up to a month. 
Read more about How To Remove Cheesecake From Regular Pan
Zarah is an experienced pastry chef whose creations have delighted countless customers. With a passion for baking, Zarah has developed a unique style that combines classic techniques with modern flavors. Her desserts are always made with the freshest ingredients, and her attention to detail shows in her beautiful and delicious creations. Zarah has a wealth of experience in the pastry kitchen, and loves to share her knowledge with others. Whether it is teaching a class or creating a custom cake for a special occasion, Zarah is committed to making sure every customer is satisfied.