Last Updated on October 6, 2022 by Griselda M.
Have you asked this particular question, "how much does it cost to make a cheesecake?" If you did, lucky for you, this article has the answers. Essentially, cheesecake is one of the many desserts you can enjoy at home or in restaurants. Usually, served after a meal.
Also, most of the cheesecakes that you can find in the United States use cream cheese, ricotta, and quark. People are still debating how to categorize cheesecakes as cake, torte, or custard. The Greeks consider it a cake. At the same time, some consider it a torte for the number of eggs used in the recipe. Other people still refer to it as custard pie. The main reason is that it has a crust, a lack of flour, and a soft filling.
How Much Does It Usually Cost To Make a Cheesecake?
How Much Is A Cheesecake? 
For the most part, you make a cheesecake with up to two or more layers. The important and thickest layer consist of a combination of fresh cheese, sugar, and eggs. In addition to that, you make the bottom layer with pastry or grounded cookies. 
Likewise, you sweeten the cheesecake with sugar. And you top it with fruits, nuts, or chocolate syrup. Remember, the cheesecake's flavors can range from toffee, key lime, strawberry, and chestnut. The most popular flavors include New York, Pennsylvania Dutch, Philadelphia, and Chicago styles. 
How Much Does Cheesecake Cost?
Typically, a cheesecake's cost depends on the size. With that, the cheesecake's cost varies from $17 for a 7-inch cheesecake to $55 for a high-quality cheesecake. Keep in mind that you can find it at a high-end bakery. 
At a local restaurant, a slice of cheesecake can cost approximately $3 to $8. Again, it relies on the type of restaurant you order. Also, keep in mind that cheesecake from a diner will cost less than from a five-star restaurant. 
Furthermore, there are different price tags for a slice of cheesecake. Remember, it depends on the flavor and where you order it from. Because of that, a frozen cheesecake costs $5 to $10 in the grocery store. Because of this, making your cheesecake is much cheaper than purchasing one. 
Additionally, the basic cheesecake can cost $14 to $16. But if you use a box of cheesecake mix, it can cost from $2 to $6. Because of that, it varies on the brand and where you purchased it. Also, making cheesecake at home can cost $13.42, which is good for 12 servings. And can cost $1.118 per slice. For these reasons, making a cheesecake from scratch can be cheaper. The main reason is that you can save from 40 percent to 88 percent more than buying. 
Price Of Cheesecake
Commonly, the price of the cheesecake depends on where you will purchase it. Because of this, the price may vary on the flavors you want. Also, you can order a slice and a whole cheesecake that is 6 inches, 7 inches, and 10 inches. Because of that, here is a list of cheesecake prices in the United States.
Prices
Individual Sara Lee Serving (2.75 ounces) for $2.25

Sara Lee Classic Cheesecake (17 ounces) for $22.33

The Cheesecake Factory Original cheesecake of Harry & David (10 inches) for $68.90

Gourmet Cheesecake by Southern Living for $94.42

Gevinni New York Style Cheesecake for $108.46

Cheesecake Factory Frozen (12.5 ounces) Available at Local Grocery Store for $5

Sara Lee Cheesecake (17 ounces) for $7 to $10. Also, the price depends on the flavor.      

Grocery Store Bakery (Kroger/Walmart) for $15 to $20

Local bakeries (9-inch New York style) for $35 to $40

Specialty Bakery (9-inch) for $33 to $50

Homemade for $10 to $15

The Cheesecake Factory
Whole Pie
6-inch for $22.95 to $29.95

7-inch for $33.95 to $38.95 

10-inch for $51.95 to $63.95
Per Slice
Original for $6.95

Fresh Strawberry for $7.95

Original with Cherry Topping for $7.50

Ultimate Red Velvet Cake Cheesecake for $7.95
How Much Do Cheesecakes Cost When Made From Scratch?
Bear in mind that making cheesecake from scratch is cheaper than buying it at your local grocery stores. And even at restaurants. If you indeed love cheesecake, you can make your cheesecake at home to save money. With that, the most expensive ingredient when making a cheesecake is cream cheese. The cream cheese covers more than half of your cost in making a whole cheesecake. In that regard, if you are trying to save money, you can pick the cheapest. However, I cannot guarantee the taste to be the best. So with that, you can calculate the ingredients on the following basis. Because of this, you will come up with the cost of the cheesecake ingredients:
Measurement To Grams 
We will calculate the measurement of each ingredient in grams. As a result, we will come up with the sum weight of each ingredient for making cheesecake.
Average Product Price
We will check the latest prices online and calculate the average price of each ingredient per ounce. With that, you have to include these when making the cheesecake recipe.
Price Per Ingredient 
Make sure to calculate the price of each ingredient. For that reason, it ensures you match the amount of each ingredient you will use in the recipe.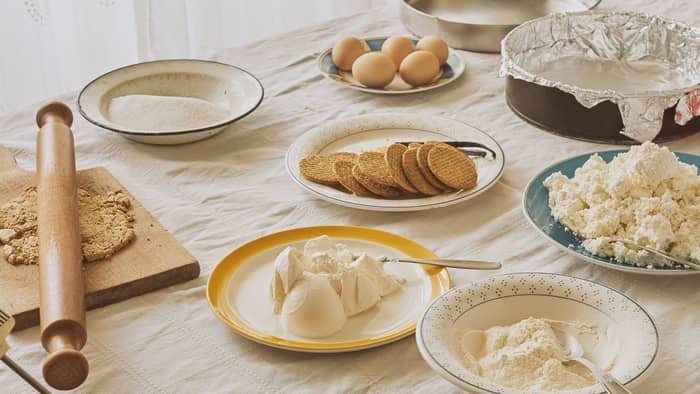 Electricity Cost  
We will also calculate the electricity cost for baking cheesecake in the oven. Ovens use 1000 to 5000 watts, with an average modern oven that uses 2400 watts medium to high. The calculation will also include the USA's average electricity rate. Which is $13.19 per kilowatt per hour (as of 2021).
Time, Utensils, And Cookware
Remember, we will not include the time cost or the utensils and cookware in the calculation.
Here is the list of ingredients and costs that will show the recipe cost of making cheesecake from scratch. Indicated in measurements and quantities in grams.
For The Graham Cracker Crust
One and a half cups of graham cracker crumbs which are 170 g, cost $1.14.

2 tbsp of sugar, which is about 25 g, cost $0.17. 

1 tbsp of brown sugar, which is approximately 12.5 g, costs $0.13. 

7 tbsp of butter (melted), which is around 100 g, cost $0.73.
For The Cheesecake
32 oz of cream cheese, which is 910 g, cost $7.06

2/3 cups of sugar, which is 160 g, cost $0.68

1 1/2 tsp of vanilla extract, which is approximately 6.3 g, cost $0.85

1/8 tsp of salt, which is about 0.75 g, cost $0.01

Four large pieces of eggs, which is 224 g, cost $0.88
Other Costs 
For the electricity used in the oven (75 minutes) for $0.39

Approximate serving or slices (9-inch cheesecake) for $13.42

The cost of homemade cheesecake from scratch (per serving) is $1.12

The price per ounce is $0.21

The sum weight of cheesecake in grams is 1808.55

The sum-product weight in ounces is 63.8
In Conclusion 
Keep in mind that making your cheesecake at home is cheap. But if you do not have the time to make it at home, then you could buy it. Nevertheless, making your homemade cheesecake from scratch can be a bit tiring, but it is indeed worth it. Besides, you can save money, and you can even add your twist to it.
Read more about How To Ship A Cheesecake?
Zarah is an experienced pastry chef whose creations have delighted countless customers. With a passion for baking, Zarah has developed a unique style that combines classic techniques with modern flavors. Her desserts are always made with the freshest ingredients, and her attention to detail shows in her beautiful and delicious creations. Zarah has a wealth of experience in the pastry kitchen, and loves to share her knowledge with others. Whether it is teaching a class or creating a custom cake for a special occasion, Zarah is committed to making sure every customer is satisfied.