Last Updated on October 21, 2022 by Zara R.
Our take on Zanze's cheesecake recipe blends traditional recipes with unique techniques to get a perfectly fluffy, firm, and balanced cheesecake.
Today, we'll teach you exactly how to make this incredible tangy sweet crustless cheesecake, inspired by Zanze's bakery.
What Is Zanze's Cheesecake Recipe?
Zanze's Cheesecake is one of the most famous cheesecake bakeries in San Francisco. Zanze makes incredible cheesecakes that are fluffy, lusciously creamy, and rich in flavor.
The secret? Zanze himself is proud to say that he doesn't use any flour or butter in his cheesecakes. He also doesn't make it with a crust so that you can only enjoy the cheesecake. And, they have developed a recipe that has perfectly balanced sweetness without being overwhelming.
When we delve into developing this recipe, it was challenging. We've previously had their famous traditional cheesecake with a graham cracker crumb coating. But finding a guide as to how they achieved this incredible flavor was nearly impossible.
So, all we could do was an experiment. Finally, we felt like we'd developed a recipe that comes close to the real thing.
One thing we do know is that they use full-fat cream cheese, lemon juice, and Clover milk. Zanze specifically mentions Clover milk.
Other than that, we tried to develop an equally fluffy New York-style cheesecake that has a semi-sweet lemony flavor. So, let's have a look at how you can make Zanze's cheesecake recipe at home.
What You Need To Make Zanze's Cheesecake Recipe
Ingredients
40 ounces full-fat cream cheese, softened at room temperature
1 cup caster sugar
1/4 teaspoon fine salt
2 teaspoons lemon juice, freshly squeezed
1 1/2 teaspoons vanilla extract
6 large eggs, room temperature
16 ounces Clover Whole Milk
2 cups finely crushed Graham crackers
Powdered sugar, for garnish
Equipment
10-inch springform cake pan
Non-stick baking paper
Non-stick cooking spray (or additional melted butter)
Large roasting tray (water bath)
Measuring cups and spoons
Mixing bowls
Electric or hand mixer
Rubber or silicone spatula
Cooling rack
Plastic or saran wrap
Food processor, optional
Cake stand or serving board
Step by step instructions
Step 1: Prepare the equipment
Start by preheating the oven to 375ºF (190ºC). Line a 10-inch springform cake pan with non-stick baking paper at the base. Then, spray the sides with non-stick cooking spray. Set it aside.
Fill a large roasting tray with boiling water. Place it inside the preheated oven so that it stays as hot as it can.
Step 2: Make the cheesecake batter
Start by placing the cream cheese in a large mixing bowl. Beat it until it becomes light and fluffy. Only work with softened cream cheese and remember to scrape the bowl as needed. This will ensure all the cream cheese gets worked to the same consistency.
Once completely beaten, add the sugar, lemon juice, and vanilla. Mix them in well.
Then, add one egg at a time. After every added egg, beat the mixture well so the egg gets fully incorporated. Then add another, and repeat the process until all the eggs are fully incorporated.
Finally, add the Clover milk and mix it in well. Then, beat the mixture at a high speed for 5 minutes so it can become aerated.
Step 3: Bake the cheesecake
Gently pour the cheesecake batter into your prepared springform cake pan. Then, place it inside the water bath.
Bake the cheesecake for about 40-55 minutes on the middle rack. Don't open the oven until at least 40 minutes have elapsed. At that time, you can check the doneness of the cheesecake by doing a jiggle test.
Step 4: Cool the cheesecake
Once you are confident that your cheesecake has been fully baked, switch off the oven and open the door slightly. Allow the cheesecake to cool for 1 hour inside the cooling oven.
Then, remove the cheesecake from the oven and allow it to cool completely at room temperature for another hour.
Finally, wrap the entire cake pan with plastic or saran wrap. Place the cheesecake inside the fridge to set for at least 4 hours. We prefer setting ours overnight.
Step 5: Assemble the cheesecake
Once the cheesecake has been set, remove it from the springform pan. Then, place it on a cake stand or serving board.
Then, cover the entire surface with a layer of Graham cracker crumbs. It should be heavily packed so it's covered well. Then, dust the surface with sifted powdered sugar.
Expert Tips And Tricks
When you initially check the doneness of the cheesecake (after 40 minutes), don't insert anything into the cheesecake. It will crack. Only jiggle the cake to see how far it has been baked. If it doesn't jiggle or only jiggles in the center inch of the cake, you can test the temperature if you'd like. But, the jiggle test should be enough of an indication that the cake is ready to cool.
You can use a food processor to make the fine graham cracker crumble. there isn't any fancy recipe for this element. It just adds a bit of texture and some traditional flavors.

Preparations Times And Servings
| | | |
| --- | --- | --- |
| Preparation Times | Baking Times | Servings |
| 15-20 minutes | 40-55 minutes | 8-10 |
Wrapping Things Up
This Zanze's cheesecake recipe is very easy to make. The steps follow traditional cheesecake-making procedures. It's the ratios and types of ingredients used that gives it its unique tangy-sweet flavor and uber creamy and mildly fluffy texture.
Let us know what you think about our take on this famous cheesecake!
Read more about Quick And Easy Classic Sara Lee French Cheesecake Recipe
FAQs
How do I know if my cheesecake is overmixed?
Despite what people think, an overmixed batter isn't always fluffy and aerated. Sometimes you can immediately see that the mixture doesn't want to aerate. When over-beating a mixture, the air bubbles that you initially trapped eventually deflate if you keep mixing. Then, in the baked cheesecake itself, the texture will be dense, it can sink in, and be dry.
How do you tell if a cheesecake in a water bath is done?
The same way you tell if a cheesecake without a water bath is done. The water bath is merely there to help your cheesecake bake evenly. It doesn't affect the baking time. So, you can do a jiggle test, test the internal temperature in the thickest part, feel if it's firm, and see if it has pulled away from the sides.
Why is my cheesecake not firm?
Your cheesecake likely doesn't have the firm texture it needs because you overmixed it. This is a common cheesecake-making mistake that is easily avoidable. Always use room temperature ingredients so the batter will be smooth. And, only mix until the ingredients are just combined.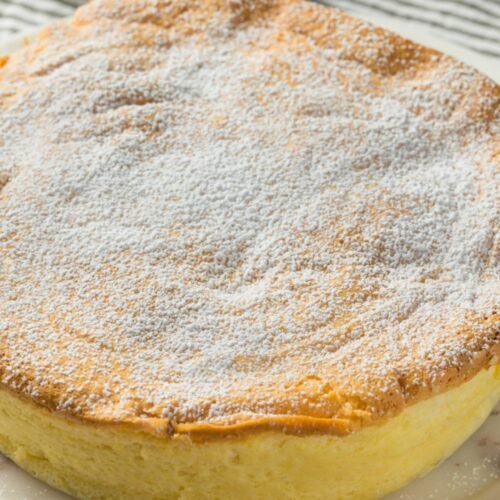 Delicious Zanze's Cheesecake Recipe In 5 Easy Steps
Our take on Zanze's cheesecake recipe blends traditional recipes with unique techniques to get a perfectly fluffy, firm, and balanced cheesecake. Today, we'll teach you exactly how to make this incredible tangy sweet crustless cheesecake, inspired by Zanze's bakery.
Equipment
10-inch springform cake pan

Non-stick baking paper

Non-stick cooking spray (or additional melted butter)

Large roasting tray (water bath)

Measuring cups and spoons

Mixing bowls

Electric or hand mixer

Rubber or silicone spatula

Cooling rack

Plastic or saran wrap

Food processor, optional

Cake stand or serving board
Ingredients  
40

ounces

full-fat cream cheese, softened at room temperature

1

cup

caster sugar

1/4

teaspoon

fine salt

2

teaspoons

lemon juice, freshly squeezed

1 1/2

teaspoons

vanilla extract

6

large eggs, room temperature

16

ounces

Clover Whole Milk

2

cups

finely crushed Graham crackers

Powdered sugar, for garnish
Instructions 
Prepare the equipment

Start by preheating the oven to 375ºF (190ºC). Line a 10-inch springform cake pan with non-stick baking paper at the base. Then, spray the sides with non-stick cooking spray. Set it aside.

Fill a large roasting tray with boiling water. Place it inside the preheated oven so that it stays as hot as it can.

Make the cheesecake batter

Start by placing the cream cheese in a large mixing bowl. Beat it until it becomes light and fluffy. Only work with softened cream cheese and remember to scrape the bowl as needed. This will ensure all the cream cheese gets worked to the same consistency.

Once completely beaten, add the sugar, lemon juice, and vanilla. Mix them in well.

Then, add one egg at a time. After every added egg, beat the mixture well so the egg gets fully incorporated. Then add another, and repeat the process until all the eggs are fully incorporated.

Finally, add the Clover milk and mix it in well. Then, beat the mixture at a high speed for 5 minutes so it can become aerated.

40 ounces full-fat cream cheese, softened at room temperature,

1 cup caster sugar,

2 teaspoons lemon juice, freshly squeezed,

1 1/2 teaspoons vanilla extract,

6 large eggs, room temperature,

16 ounces Clover Whole Milk,

1/4 teaspoon fine salt

Bake the cheesecake

Gently pour the cheesecake batter into your prepared springform cake pan. Then, place it inside the water bath.

Bake the cheesecake for about 40-55 minutes on the middle rack. Don't open the oven until at least 40 minutes have elapsed. At that time, you can check the doneness of the cheesecake by doing a jiggle test.

Cool the cheesecake

Once you are confident that your cheesecake has been fully baked, switch off the oven and open the door slightly. Allow the cheesecake to cool for 1 hour inside the cooling oven.

Then, remove the cheesecake from the oven and allow it to cool completely at room temperature for another hour.

Finally, wrap the entire cake pan with plastic or saran wrap. Place the cheesecake inside the fridge to set for at least 4 hours. We prefer setting ours overnight.

Assemble the cheesecake

Once the cheesecake has been set, remove it from the springform pan. Then, place it on a cake stand or serving board.

Then, cover the entire surface with a layer of Graham cracker crumbs. It should be heavily packed so it's covered well. Then, dust the surface with sifted powdered sugar.

2 cups finely crushed Graham crackers,

Powdered sugar, for garnish
Notes
When you initially check the doneness of the cheesecake (after 40 minutes), don't insert anything into the cheesecake. It will crack. Only jiggle the cake to see how far it has been baked. If it doesn't jiggle or only jiggles in the center inch of the cake, you can test the temperature if you'd like. But, the jiggle test should be enough of an indication that the cake is ready to cool