Last Updated on November 16, 2021 by Guillermina
Why sour cream in cheesecake? Using sour cream in cheesecake provides specific characteristics that make it delicious. In this post, we'll give you some tips and tricks in how to use it, what can you substitute it with, and some other interesting facts about this awesome ingredient.
And if you think sour cream was only made for nachos and crispy tacos, let us prove you wrong. So keep reading to get all of our secrets about the usage of sour cream revealed.
Using Sour Cream In Cheesecake
The best cheesecake, whether baked or cooked, relies on creamy richness to make it a star. It should be smooth, creamy, with no cracks, and it needs to melt in your mouth with every bite. It has to look fabulous and taste absolutely amazing.
Certainly, in order to have some of these characteristics in your cheesecake, you need to combine the perfect ingredients. And one of these is sour cream.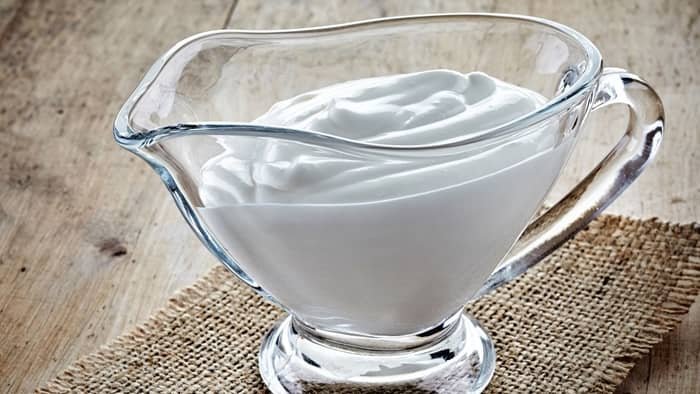 Why Use Sour Cream In Desserts?
Sour cream goes well with many salty and sweet ingredients. The word sour doesn't mean is spoiled but indicates the point of acidity characteristic of fermentation by lactic acid bacterias. This bacteria increases the shelf life of the product also.
And even though sour cream isn't a primary ingredient for a cheesecake, it gives many qualities to the flavor and texture. Here are some reasons why sour cream is used in cheesecakes:
It adds tangy flavor
Regulates acidity
Provides a rich creamy cheese texture
Adds fat for creaminess
Its acidity helps to tenderize gluten strands. Subsequently, you'll end up with a more tender cheesecake.
Brings moisture to your cheesecake
It controls browning surface
It actives baking soda -for cakes-
Certainly, these are just a few sour cream benefits, but there's plenty of them!
Read more about The Best Way To Cut A Cheesecake
Sour Cream vs Heavy Cream
Most cheesecake recipes either use sour cream or heavy cream. Either will soften the texture and will add some moisture. Take a look at their attributes.
Sour Cream
Its acidic nature yields a more nuanced flavor in a baked treat.
Lemon juice interacts with the sour cream and it curdles it, this combination thickens your cheesecake.
Its fat content is 18%, which means a lighter cheesecake texture.
Heavy Cream
 Heavy cream mixed with lemon juice is one of the best substitutes for sour cream. The formula is adding one cup of heavy cream and one tbsp of lemon juice.
Heavy cream will give it a sweeter taste – no tangy -.
Its fat content is 38%, which means a more dense and rich cheesecake texture.
There's not really a big difference between these two, it's all about perspective and personal taste. Both of them work perfectly for any cheesecake recipe. It will also depend on the cheesecake flavor, for example, I rather use heavy cream on a chocolate cheesecake and sour cream on a pineapple cheesecake. Just saying!
The BEST Sour Cream Substitutes For Cheesecakes
In this section, we'll tell you how to substitute sour cream. All of us have asked ourselves the following question.
Can I substitute sour cream for heavy cream? And the answer is yes, but not only with heavy cream. Take a look at the recommendation list of perfect substitutes to use in your cheesecake.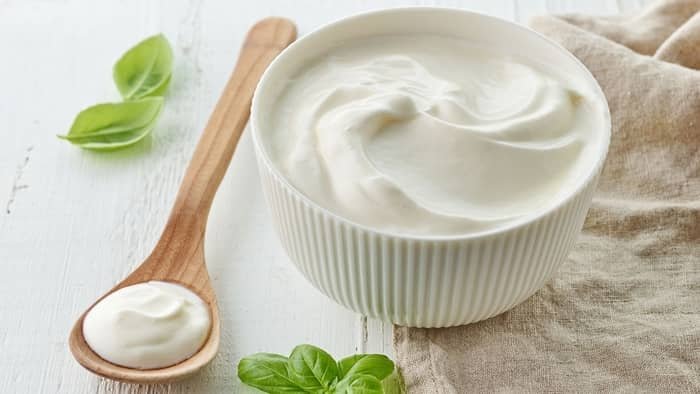 Substitute #1: Greek yogurt
Greek yogurt it's an excellent stand-in for sour cream. And unlike regular yogurt, it doesn't contain whey. It also reduces the fat and calories of your cheesecake.
We recommend the whole milk greek yogurt, you just need to make sure you strain it before using it. To strain it, you need to put it on a cheesecloth over a bowl in the refrigerator and leave it for 2 days until the liquid drains out.
We've added the top 18 Greek yogurt brands of 2021, including a vegan option. Take a look!
The Best Greek Yogurt Brands Of 2021
Fage Total Plain
Chobani Greek Yogurt
Clover Sonoma Organic
Stonyfield 100% Grass-Fed
Fage TruBlend
Siggi's
Icelandic Provisions
Powerful Yogurt
Ellenos
Maple Hill Grass-Fed Organic
Wallaby Organic
Strauss Family
Kite Hill Greek-style – vegan –
Nancy's Organic
Maia
Norman's Greek Pro+
Yoplait Greek 100
Oikos Triple Zero
Substitute #2: Cottage cheese
To do so, you need to blend 1 cup of cottage cheese, with 4 tbsp of milk and 2 tbsp of lemon juice. Blend until softened and use this cheese substitute instead of sour cream, cup by cup.
Substitute #3: Crème Fraîche
It is a French term that translates to fresh cream, with a fat content of greater than 30%. This fabulous dairy product has a little nutty and buttery flavor that goes perfectly with both sweet and salty dishes. It gives a velvety texture to the palate and is slightly acidic.
Look at this! We have included a video for you to make your own Crème Fraîche. Check it out!
Substitute #4: Tofu
Our vegan-friendly substitute. And it is actually delicious! Even if you're not vegan, you should try it out and compare it. These are times for new and open-minded experiences.
To make your own tofu sour cream, put soft and firm tofu in a food processor, add lemon juice, soy, and cashews, then process until smooth.
How To Make Your Own Sour Cream?
This is an incredibly easy recipe and works well in all sorts of recipes. I personally love it on pasta, bread, pizza, chips, french fries, chicken, and meat.
Ingredients Needed
200ml of liquid cream -with 20% fat minimum-
1 tbsp of lemon juice or vinegar
1 pinch of salt
Instructions
In a mixing bowl, put the liquid cream and the lemon juice, mix with a fork, and cover. Let it sit for 30 minutes at room temperature.
Then, add salt, mix, and enjoy! Your sour cream is now ready.
To Sum Up…
Well, now that you know the reasons why we love to use sour cream in our cheesecakes. So, yes! Give it a try.
The idea is to play with your imagination with all your recipes. Yes, indeed, following a pastry recipe should be crucial for an optimal result, but you can also feel free to substitute ingredients and compare them anytime.
Don't forget to try making your own sour cream, add it to your favorite cheesecake recipe, and please let us know what you think.
Read more about Italian Cheesecake Vs New York Cheesecake
Griselda is an experienced pastry chef and baker with a passion for creating delicious desserts. She has been cooking and baking for over ten years and loves the creative process of creating something special for her friends, family, and customers. Griselda has a special talent for creating beautiful and tasty desserts like cakes, pies, and cookies. She is experienced in a variety of baking techniques and loves to experiment with new flavors and textures. When Griselda isn't in the kitchen, she loves to spend time with her friends, family, and her two cats.