Last Updated on March 22, 2022 by Griselda M.
Italian cheesecake vs New York Cheesecake, two of the most delicious cheesecakes of all time! In this post, we talk about the differences between these two.
Although these cheesecakes are very similar, there are a few things we point that make them different. Could it be the texture, the flavor, or maybe the type of ingredients they use?
Certainly, cheesecake is not only one of the world's favorite desserts, it is also one of the oldest. Its preparation varies depending on the country. Most cheesecakes from the United States and the rest of America have cream cheese as their main ingredient.
Keep reading and get to know them a little bit better.
Italian Cheesecake History
What is Italian cheesecake exactly? If you haven't tried it yet… what are you waiting for? There are many recipes out there that you can try.
This delicacy is the result of many adjustments over thousands of years. It is believed that its origin dates back 4000 years in Ancient Greece, specifically on the island of Samos.
It is said that in those times, they use to crush the cheese and heat it in a copper saucepan. They would add honey and flour, mix well, then they would cool it and serve.
When Greece was conquered by the Romans, the cheesecake turned into a war precious gem. They modified the recipe by adding eggs and baking them between hot bricks. They baptized it as libuma, an Italian-style cheesecake that was only served on very special occasions.
With the extension of the Roman Empire, this delicious cheesecake reached the rest of the countries of Europe. Each country modified the original recipe according to its tastes and indigenous culinary traditions.
From An Italian Cheesecake To A New York Cheesecake
It was until the eighteenth century that this cheesecake finally arrived in America brought by the first European immigrants.
The addition of cream cheese didn't come until 1872 when a new yorker pastry chef tried to reproduce a variety of French cheese called Neufchâtel, from the region of Normandy. Then, by accident, he obtained a soft creamy cheese. Years later he distributed it wrapped in aluminum foil and sold it in local stores under the name Philadelphia Cream.
Since the early twentieth century, the new york cheesecake has been a sweet icon for New Yorkers. Although the authorship of the genuine version was attributed to german Arnold Reuben.
Italian Cheesecake And New York Cheesecake Differences
Although there are many lovers of baked cheesecake, only a few know the origin of this delicious dessert. When we think of its origin, we imagine a small pastry shop or café in New York inventing the famous New York cheesecake. But nothing further than the reality.
In this paragraph, we are going to tell you about the differences between these two. Take a look.
Italian Cheesecake
Italian cheesecake is prepared similarly to other cheesecakes, but what makes it different is the texture and taste of Ricotta cheese. Ricotta means "cooked twice". The original ricotta cheese is made from whey drained during the production of mozzarella and provolone cheese.
Italian Cheesecake Characteristics
Traditionally, this cheesecake has no crust.
The modern version has a cake-like base, made with flour.
In Italy, it is common to incorporate mascarpone, ricotta, and honey.
The original Italian cheesecake is made with Mizithra cheese.
You can click here to find Mizithra cheese near you.
New York Cheesecake
Cheesecake in North America also has its own variations. Its success actually spread to the most important cities in the United States. In Chicago, it is made with sour cream, and in St Louis, they also include other layers of ingredients.
Later, it returned to Europe renamed as New York Cheesecake. Here are some of its characteristics.
New York Cheesecake Characteristics
It contains lemon juice.
Its base is made of graham cracker crumbs and melted butter.
It is usually topped with strawberry sauce.
Frequently made with cream cheese, most people prefer to use the famous Philadelphia brand.
There is also the no-bake version, which does not include eggs in it. Instead, they add pure gelatin. This version is cooled in the refrigerator, not baked.
7 Cream Cheese Brands To Use In Your New York Cheesecake
Our team tried the most popular cheesecake brands. There are many of them out there, but we have found the best options for you. We hope you like them!
Philadelphia. Being the tangiest and of course, the original one to use for this cheesecake.
Dutch Farms. This one has the mildest flavor of all.
Organic Valley. Made with organic milk from pasture-raised cows.
Great Value. The most affordable for everyone.
Prairie Farms. Special for the no-bake cheesecakes and other desserts.
Green Mountain Farms. It's a Greek cream cheese that has half the fat and four times as much protein as the traditional cream cheese.
Miyoko's. This is one of the best Vegan cream cheese options.
Cheesecakes In The World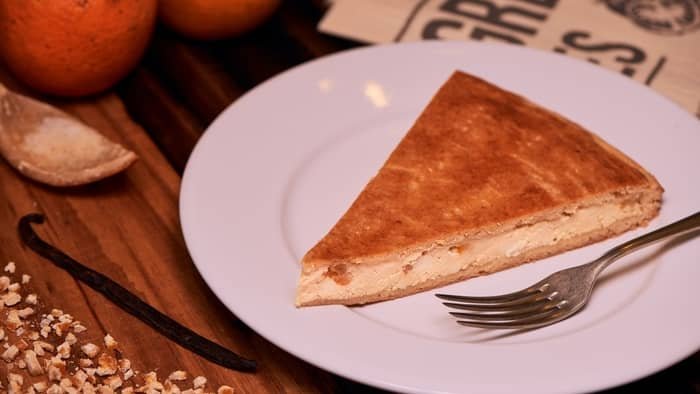 The rest of the world also makes its own cheesecake. In Italy, it is made with mascarpone cheese, ricotta cheese, and honey. The Greeks use feta or Mizithra cheese, the Germans add cottage cheese and do not make the base with biscuits, but with freshly prepared dough.
Places like Poland have their own version called sernik. In Japan, they add egg whites and corn starch. There are even versions around the world with blue cheeses, hot peppers, seafood, and tofu, among other ingredients.
In Venezuela, they have a variety called Torta de Queso. Instead of using cream cheese in it, they use hard grated cheese or ricotta cheese, depending on the cheesecake style they're cooking.
Read more about No-Bake Chocolate Cheesecake Sweetened With Condensed Milk
Final Words
In classical culture, cheese was considered a source of energy. In fact, it was considered the "official food" of the athletes participating in the Olympic Games due to its high protein content. After that, this dessert ceased to be food for athletes and was reserved for very special occasions.
And as you can see, 4,000 years of history have passed to make many different recipes. That in addition to cheese, they have something else in common, a very delicious flavor. And nowadays, it is a delight for everyone.
So, go ahead and cook an Italian cheesecake if you haven't tried it yet. Hope you enjoy it as much as we did!
Learn more about New York Cheesecake Vs Regular – What's The Difference?
Griselda is an experienced pastry chef and baker with a passion for creating delicious desserts. She has been cooking and baking for over ten years and loves the creative process of creating something special for her friends, family, and customers. Griselda has a special talent for creating beautiful and tasty desserts like cakes, pies, and cookies. She is experienced in a variety of baking techniques and loves to experiment with new flavors and textures. When Griselda isn't in the kitchen, she loves to spend time with her friends, family, and her two cats.