Last Updated on April 16, 2022 by Griselda M.
We've assembled a list of the best strawberry cheesecake ice cream brands that you can all find. And, they're all high-quality affordable options.
What Is Strawberry Cheesecake Ice Cream?
If you have never had cheesecake-flavored ice cream, then do yourself a favor and start with this one! Strawberry cheesecake ice cream is absolutely delicious.
It contains a symphony of flavors and has an extremely good balance of tangy and sweet flavors. The tanginess comes from the cheesecake ingredients used, and the natural acidity present in strawberries. And, the same goes for the sweetness in these treats.
How is this ice cream made?
But, how is this ice cream actually made? The base of ice cream is usually made with a cooked custard, also called an anglaise. You combine some eggs and cream (with some flavoring ingredients of course) and cook it over low heat until it becomes thick. Then, this liquid is cooled and churned to make ice cream.
Cheesecake-flavored ice cream uses the same principles. It uses melted cream cheese with eggs to make a thickened custard. This is where the cheesecake flavors come from.
Now, the strawberry flavor can either be incorporated as part of the cheesecake flavor, or you can make a separate base. When using a separate base, you can basically create a swirled mixture of white and pink ice creams.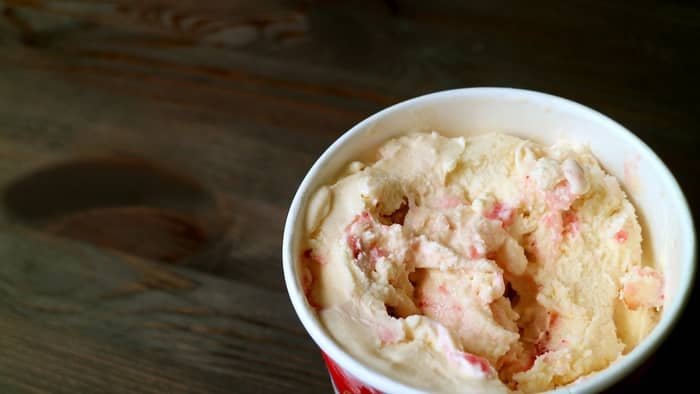 What Are The Best Strawberry Cheesecake Ice Cream Brands? – Where To Find This Ice Cream?
Unfortunately, there aren't all that many brands that make strawberry cheesecake-flavored ice cream. However, those that do make them well!
To start your search for strawberry cheesecake ice cream brands near you, go look on the internet first. Search for specific products at your local grocery store or look for ice cream shops nearby.
If you cannot find any within driving distance, then you may need to go explore some online choices.
One excellent brand you can try is Ben and Jerry's. This brand specifically is world-renowned for its unique flavors and incredibly high-quality, yet affordable ice creams.
Another brand that you can try is Haägen Dazs. Not only will you find this strawberry cheesecake ice cream, but they produce an extremely wide range of unique delicious flavors. Some of them may even be a pleasant surprise!
Hudsonville is not one of the first strawberry cheesecake ice cream brands we would think of. However, once we tried it we were blown away! And, they are surprisingly affordable for the high-quality products that produce.
Our next brand is Breyers, arguably one of the most loved ice cream producers ever. This brand has been around since 1866 and for a good reason. They produce delicious creamy ice creams at a very attractive price.
Buyer's Guide – Strawberry Cheesecake Ice Cream Brands
When it comes to buying ice cream, there are luckily only a few factors that you have to take into consideration.
Flavor accuracy
The first, for this product specifically, is that it has an actual authentic strawberry cheesecake flavor. Now, different brands approach this differently. Some create one solid ice cream that has those flavors.
Others create a cheesecake flavored base and add either a strawberry sauce or pieces of strawberry. And, some even add whole pieces of cheesecake too!
No matter which, the flavor profile has to be present and accurate, otherwise the brand completely missed the mark!
Quality ingredients
The next important factor we always consider is the quality of the ingredients used. There is nothing worse than biting into icy flaky ice cream. This is often an indication of poor-quality ingredients.
When possible, research the type of ingredients that the brand uses. For example, Breyers promote their use of "real milk and fresh cream" for their ice creams. While other companies may market their fresh fruit additions.
And also make sure that the ingredients don't go against any of your dietary preferences and religious belief. For example, if you are lactose intolerant, make sure to buy a dairy-free product.
The Best Strawberry Cheesecake Ice Cream Brands
Below, we have compiled a list of our favorite strawberry cheesecake ice cream brands. And, to make your life even more convenient, we have only selected products that can easily be found in stores and online.
We are obsessed with this ice cream. It is made with a delicious cream cheese ice cream base and delicious strawberry pieces. And, to make it even more authentic, they have added a thick graham cracker swirl too!
We also love this brand because it has been made with non-GMO ingredients, is Fairtrade certified, kosher certified, and uses recyclable packaging.
Overall, this ice cream brand is extremely creamy, packed with balanced flavors, and is perfect for any occasion!
This brand is also one of the worlds leading high-quality ice cream manufacturers. And, they have a wide assortment of interesting flavors. What we like about this product specifically, is that it has a creamy cheesecake ice cream base with saucy strawberry swirls incorporated on the inside.
Furthermore, they have added crunchy biscuit pieces throughout to give you that classic crisp and creamy cheesecake experience.
Hudsonville makes a delicious strawberry cheesecake ice cream that also incorporates a delicious strawberry sauce into its cheesecake ice cream. What makes this sauce unique though is its tart flavor.
Unlike many other ice cream manufacturers who try to make everything sweet, Hudsonville emphasizes the tartness that cheesecakes should have. And, they have even made this product certified gluten-free.
Breyers have their very own New York-style Strawberry cheesecake ice cream. And, in classic New York style, this cheesecake ice cream is extremely rich and uber creamy. It is made with a delicious strawberry sauce and, here's the best part, graham-covered cheesecake chunks.
Yes, you read that correctly! They actually use cheesecake along with their cheesecake ice cream. And, another attractive quality of this product is that it has been made with real milk and fresh cream.
Conclusion – Strawberry Cheesecake Ice Cream Brands
If you aren't craving any one of these strawberry cheesecake ice cream brands, then nothing will make you drool! Go ahead, give some of these a try and let us know what you think about them in the comments below!
FAQs
Where to buy strawberry cheesecake?
You can look at some of your local grocery stores or bakeries for some strawberry cheesecakes. And, if you are looking for strawberry cheesecake ice cream, then you can check out some ice cream shops. Alternatively, both can easily be found online.
What brands make strawberry cheesecake ice cream?
The brands we would most recommend for strawberry cheesecake ice cream include Haägen Dazs, Breyers, Hudsonville, and Ben and Jerry's. They all produce high-quality ice cream with are packed with flavor and affordable!

Lindy Van Schalkwyk is a culinary specialist with a background in Advanced Cooking, Advanced Pâtisserie, Media Communications and Nutrition. She has gained invaluable experience in the culinary industry having worked in some of the top restaurants in Africa in 2016 and 2017. Her expertise in nutrition has enabled her to develop recipes for special dietary needs. In 2018, Lindy began working in the Food Media industry, focusing on recipe development, recipe writing, food writing and food styling.