Last Updated on April 16, 2022 by Griselda M.
If you're looking for the ultimate cheesecake ice cream brands, then this guide is for you! We compiled the top options which are all available online!
Now, you can easily satisfy your sweet tooth at the click of a button!
What Is Cheesecake Ice Cream?
Cheesecake ice cream is essentially regular ice cream that has been made using real cream cheese. When this formula is used, you get uber creamy and rich ice cream with a deliciously balanced sweet and tangy flavor.
Another technique used to make cream cheese ice cream is to simply add a few droplets of cheesecake essence (or cream cheese essence). We aren't the biggest fans of these types of ice creams. The addition of actual cream cheese really makes the world difference!
Now, what about the cheesecake crust and toppings? Well, many ice cream brands still incorporate the delicious crispy crust into their product by adding bits of cookies or biscuits. And, for the topping, they either incorporate it in the form of a sauce, dried pieces, or even fresh frozen bits.
For example, if you have a look at a strawberry cheesecake ice cream, they can either incorporate strawberry sauce, strawberry pieces, or strawberry cheesecake ice cream. The limitations are as broad as the manufacturers' creativity!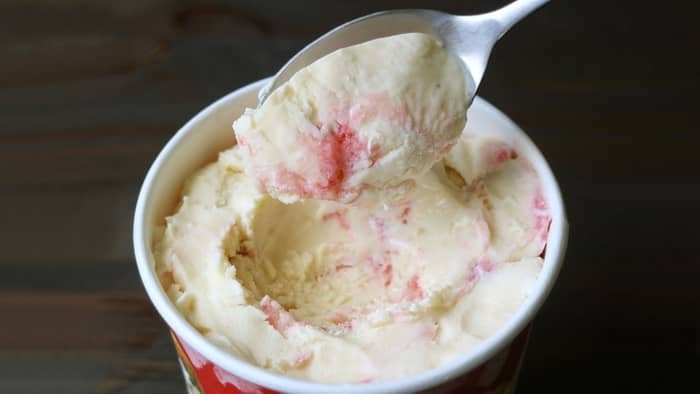 Cheesecake Ice Cream Brands' Flavors
Now naturally, there are many different flavors of cheesecake ice creams. And trust us, brands really do go all out when it comes to these!
All of the products should have a cheesecake flavor. This flavor is usually obtained through the addition of cream cheese. This is still relatively easy and you do get a ton of plain vanilla cheesecake ice cream options.
But, where the fun really begins is when they make various flavors. You can get anything from berry, salted caramel, bubblegum, brownie and caramel, chocolate cherry, and loads more!
Cheesecake Ice Cream Brand Buying Guide
So, not all cheesecake ice cream brands are made equal. And unfortunately, just because the flavor sounds incredible, doesn't mean that it actually is! So, we have created a buyer's guide which will help you choose the best ice cream cheesecake brands.
Quality
Who doesn't want good quality ice cream? But what measures that? Well, when we are looking through brands the first thing we look at is what type of ingredients they use. This is especially important when it comes to unique flavors.
For example, when looking at chocolate cheesecake ice cream, the type of chocolate they used will make a massive difference in quality. If they merely used chocolate extract and brown food coloring, your ice cream won't be good and will lack flavor. But, if they have incorporated real melted chocolate or cocoa powder, it makes the product higher in quality.
Furthermore, we always like to know that ice cream brands use real milk or cream. And yes, as shocking as that may seem, there are many watered-down milk or cream products out there. Even simple powdered milk isn't as creamy and luscious as the real thing!
So, these are the types of things we like to look out for.
Flavor
Of course, you have to consider flavor! But, many cheesecake ice cream brands make similar flavors. So, when choosing the best one, have a look at how each brand makes its flavor.
For example, some blueberry cheesecake ice creams will be made with a blueberry sauce while others are made with whole blueberries. This will help you narrow down what you like and how to choose a brand.
Dietary requirements
And finally, make sure that the product adheres to any specific dietary requirements or restrictions you may have. For example, if you are lactose intolerant or allergic to nuts, make sure the ice cream doesn't contain dairy or nuts.
The same goes for things like being vegan, halaal, or kosher.
The Best Cheesecake Ice Cream Brands
So, let's get right to it, the best cheesecake ice cream brands that are currently available! We have searched far and wide and gone through many options. These brands below provide the most options at affordable prices and fantastic quality!
1. The Cheesecake Factory
Cheesecake factory is a world-famous restaurant that specializes in making amazing cheesecakes. Today, they offer over 34 cheesecake flavors and even have various portion sizes!
So naturally, when they started making cheesecake-flavored ice cream, we were first in line to have a taste. In short, absolutely mind-blowing! Currently, they offer many flavors including birthday cake, chocolate, cookies and cream, key lime, plain, salted caramel, and strawberry.
2. Ben & Jerry's
Ben & Jerry's is another famous ice cream brand that is well-known for its fun and delicious flavors. And, their ice creams are surprisingly affordable for the exceptional quality they are.
This brand stocks 4 different cheesecake ice cream flavors at the moment. This includes strawberry cheesecake, cookies and cream cheesecake core, caramel chocolate, and pumpkin cheesecake. But, keep an eye out on their social media as they regularly release limited addition special flavors!
3. Breyers
This is also an amazing ice cream brand that is more affordable than most. They only have two cheesecake ice cream flavors available for the moment on their website. This include New York-style cheesecake and Layered dessert brownie cheesecake.
While there might not be many to choose from, they certainly are unique and you won't find other brands having the same flavors. So, don't give these a skip!
We have also come across some retired products like their Sara Lee strawberry cheesecake ice cream, chocolate, raspberry gelato, and regular brownie flavor.
Other mention-worthy cheesecake ice cream brands
Below, we have made a list of some other note-worthy cheesecake ice cream brands. However, these brands only have one or two options available, which is why we haven't included them in our list above.
Final Thoughts – Cheesecake Ice Cream Brands
Luckily, while it may not seem like there is an overload of cheesecake ice cream brands available, there are more than enough flavors to keep you satisfied! Let us know which ones you gave a try!
Read more about Luscious Jello No-bake Oreo Cheesecake In 5 Easy Steps.
FAQs
Whats the most popular cheesecake?
When looking at brands specificallyl, one of the most famous and popular manufacturers would be The Cheesecake Factory. When it comes to flavors, it is often plain, strawberry, pumpkin, chocolate, peanut butter, lemon, and Oreo.
What brand of cream cheese is best for cheesecake?
We would say the best brand of cream cheese is hands-down Philadelphia cream cheese. It is made using the freshest and highest quality ingredients and have a fantastic flavor. Other than that, you can choose any full-fat cream cheese option for cheesecakes.
What brand makes cheesecake ice cream?
These aren't that many brands that makes cheesecake ice cream, but the ones that do have a couple of flavor options. The cheesecake Factory has the largest variety followed closely by Ben and Jerry's. Then, you also have Breyers, Whole Foods Market, and Blue Bunny.

Lindy Van Schalkwyk is a culinary specialist with a background in Advanced Cooking, Advanced Pâtisserie, Media Communications and Nutrition. She has gained invaluable experience in the culinary industry having worked in some of the top restaurants in Africa in 2016 and 2017. Her expertise in nutrition has enabled her to develop recipes for special dietary needs. In 2018, Lindy began working in the Food Media industry, focusing on recipe development, recipe writing, food writing and food styling.