Last Updated on January 20, 2023 by Zara R.
Are you looking for an interesting and unconventional alternative cheesecake crust? We have some fantastic, versatile, and flexible options for you!
Today, we will be exploring how to make an alternative cheesecake crust from scratch and how to make a Graham cracker substitution. These are fantastic ways to experiment with different flavors and textures, ultimately elevating your cheesecake-making skills.
What is a Cheesecake Crust Usually Made From?
Many people don't realize the importance of choosing the right type of crust for a specific type of cheesecake. In actuality, choosing the wrong crust can ruin the entire baked cake.
A crust not only adds texture to cheesecakes but also adds a ton of delicious flavor. It is an excellent way to counteract the uber creaminess while adding some interesting textures too.
A cheesecake crust is usually made from biscuit crumbs with the addition of butter. Some recipes will also include some flour (to help bind the crust), sugar (for more sweetness), and flavoring ingredients like vanilla, salt, or other extracts,
The most popular cheesecake crust is a Graham cracker crust. The butter and honey from the Graham crackers pair especially well with the creaminess of virtually any cheesecake. Furthermore, their flavor doesn't overwhelm that of the cheesecake and creates a beautiful balance.
Graham crackers have a good shelf life which means you can conveniently keep them on hand for whenever a cheesecake is needed!
And finally, when making a Graham cracker crust, you can pre-bake and freeze them to make future baking a breeze!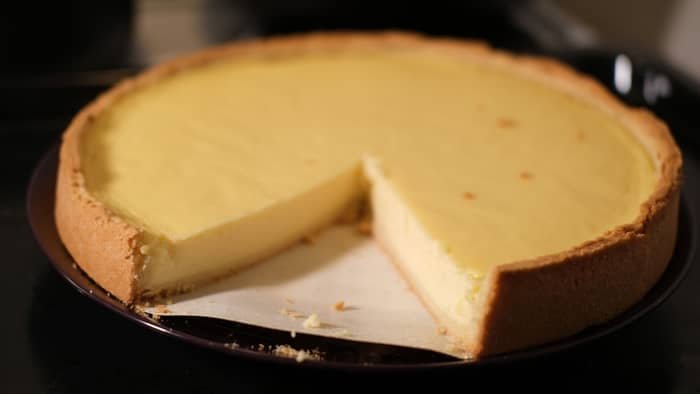 How To Make a Cheesecake Crust
Making a cheesecake crust is probably the easiest part of cheesecake. The most difficult part is deciding what texture the crumb should be and correctly executing it.
If the crumb is too soft, it will become soggy. But, if it is too dry, it will disintegrate when slicing the cheesecake.
Ingredients Needed
5 Oz (150g) Graham crackers
2.3 Oz (65g) unsalted butter
1.4 Oz (40g) granulated sugar
Equipment Needed
Microwave
Food processor or Ziploc bag and rolling pin
Mixing bowl
Spatula
springform pan
Measuring cup
8-Cup Food Processor by Homeleader
Step-By-Step Instructions On How To Make a Cheesecake Crust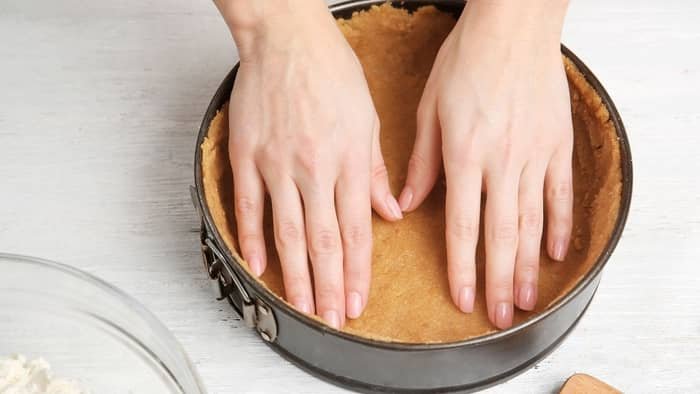 Step 1: Make the crumbs
Preheat the oven to 300°F (177° C).
Make the crumb by pulsing the graham crackers in a food processor or by crushing them in a plastic bag with a rolling pin.
Step 2: Melt the butter
Melt the butter in the microwave on medium heat. Do not allow the butter to burn or boil.
Step 3: Make The Cheesecake Crust
In a mixing bowl, combine the Graham cracker crumbs and sugar. Then, slowly add the butter a little at a time and mix well. The crumb should look like moist breadcrumbs and not dough.
Next, press the crumb into the bottom of your springform pan. Use the measuring cup to flatten the crumb. You can also create slightly elevated sides if you want.
Step 4: Pre-bake your crust
Bake the crust for 7-8 minutes before placing your cheesecake mixture inside. Once your cheesecake mixture is added, you can continue baking the cake until the batter is set but still jiggly in the center.
If you don't want to use the crust immediately, you can bake it for 12 minutes and remove it from the oven. Allow it to cool completely at room temperature. Then, wrap the crust and freeze it on a tray.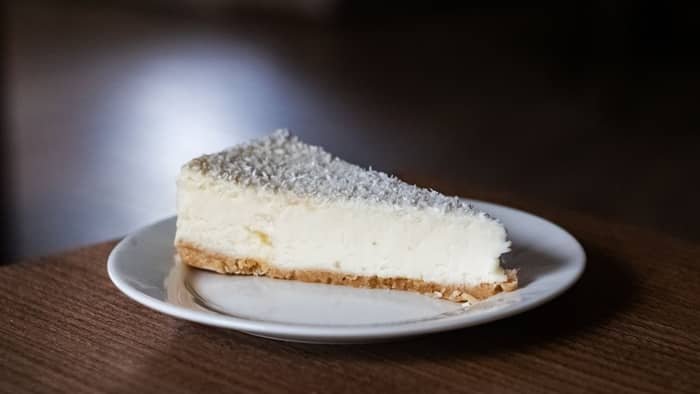 What is an Alternative Cheesecake Crust?
An alternative cheesecake crust is any type of crust that isn't made from Graham crackers like traditional crusts are
Cheesecake crusts can be classified into two categories; those made from scratch and those made using ingredients similar to Graham crackers, like wafers or cookies.
Cheesecake crusts made from scratch are usually made using shortcrust pastry recipes.
An alternative cheesecake crust that is not made from pastry is often made with ingredients similar to that of a Graham cracker crust. The Graham crackers can be substituted in the recipe.
Alternative Cheesecake Crust Without Graham Cracker – Your Best Options
Shortcrust Pastry
Shortcrust pastry is probably one of the most used cheesecake bases apart from Graham cracker crusts. Shortcrust pastry is crumbly and crisp.
It uses flour, sugar, baking powders, salt, egg, milk, and butter. Despite being a lot of ingredients, luckily they are all likely already in your pantry!
The pastry is easy to make and doesn't require a lot of time or skill. Simply use a food processor to pulse the flour, sugar, baking powder, salt, and butter together. Add the egg and pulse again. Finally, add the milk until it all comes together.
Then, simply roll out your pastry and line your springform pan. Make sure to dock the crust and blind-bake it for about 12 minutes.
And, if you're not up to making an entire crust from scratch, you can also just buy some pre-made shortcrust pastry from your local grocery store.
Graham Cracker Substitute
Graham crackers can be replaced with almost any crispy ingredient. As long as it is crunchy, crumbly, or cracker-like, it will work well. Just make sure that whichever element you are using fits the flavor profile of your cheesecake!
Biscuits with a neutral flavor like honey, coconut, or vanilla work with almost any cheesecake flavor!
Here are a few of our favorite Graham cracker substitutes.
A great and fun way to bring other cookies into the crust is by matching it with the flavor of the batter. Use Oreos for an Oreo-flavored cheesecake or Chip Ahoy! for a chocolate chip cookie cheesecake.
Breakfast cereal. Didn't see that one coming, right? Cheerios make a great crust! Play around with different breakfast cereals, and try infusing your cheesecake flavor with the cereal as well!
Ice cream cones. Ice cream cones are wafer-like which means they make great crumbs. Simply pulse your ice cream cones in a food processor or smash them in a plastic bag. Make sure to not make the crumbs too fine, especially if you're not using waffle cones.
We all have a few bags of pretzels around the house! You can be creative and use salted pretzels to pair with a caramel cheesecake batter!
And finally, you can use alternative cookies like ginger, coconut, or almond cookies. These make simple and easy substitutions that are also relatively neutral in flavor.
In Conclusion
Graham crackers are not the only cheesecake crust around! Using alternative cheesecake crusts can be fun and add flair to your cheesecake! Be sure to let us know exactly what you tried out in the comments below!
FAQs
What is an alternative cheesecake crust,?
The best and easiest alternative crust is one that simply substitutes the Graham crackers, You can use cookies, pretzels, ice cream cones, cereal, or biscuits. Alternatively, you can make a shortcrust pastry from scratch or buy one at your local grocery store.

Lindy Van Schalkwyk is a culinary specialist with a background in Advanced Cooking, Advanced Pâtisserie, Media Communications and Nutrition. She has gained invaluable experience in the culinary industry having worked in some of the top restaurants in Africa in 2016 and 2017. Her expertise in nutrition has enabled her to develop recipes for special dietary needs. In 2018, Lindy began working in the Food Media industry, focusing on recipe development, recipe writing, food writing and food styling.