Last Updated on February 26, 2022 by Guillermina
This pineapple topping for cheesecake recipe consists of a quick white chocolate pineapple ganache and delicious fresh pineapple compote!
And, you can even add it to pre-baked cheesecakes or store-bought ones. It is easy to make and add to the cheesecake. And, furthermore, it is extremely easy to adjust the sweetness and intensity. So, what are you waiting for? Try this topping and let us know what you think!
What Is A Pineapple Topping For Cheesecake Recipe?
Don't get us wrong. Cheesecake is absolutely great as-is. Some may even say perfect! But, there is nothing taboo about adding a topping or two.
With cheesecake, being already quite unique in flavor, you always want to add toppings that will blend in seamlessly. You definitely first have to look at the type of cheesecake you are making before choosing a topping.
Today, as you already know, we are looking at a pineapple topping for cheesecake recipe. Now, today we will make a deliciously sweet pineapple ganache with a pineapple compote. This combination of pineapple toppings works excellently with any neutrally-flavored cheesecakes, like vanilla-flavored ones.
However, you can also pair them with fruity cheesecakes and even white chocolate cheesecake. Just make sure that the cheesecake itself isn't extremely sweet. Pineapple is a naturally sweet ingredient, so you don't want to make the final product sickeningly sweet.
Different Types Of Pineapple Toppings For Cheesecakes
There are many different types of pineapple toppings you can make. We love the ganache topping because you can adjust the flavor and consistency. Furthermore, you can have it set with the cheesecake to create a creamy smooth layer at the top. And, our pineapple compote is where the actual pineapple punch comes in!
All that being said, you can make other types of toppings. You can make a smooth pineapple glaze for cheesecake using a simple royal icing frosting. And, you can adjust the consistency so that it creates a beautiful drip-effect too!
Then, you can add a pineapple-flavored buttercream frosting on top using a star-nozzle tip. Use varying nozzle sizes to create a wreath-like look! Finally, add a few additional details like fresh pineapple slices, pineapple macarons, or even some tiny white flowers.
You can also simply add a buttercream frosting, cream cheese pineapple frosting, or pineapple compote. And finally, another simply topping is a pineapple sauce for cheesecake, which will naturally have a much thinner consistency.
Pineapple Compotes Or Coulis
There are different types of fresh pineapple toppings you can use that don't even need any type of extract or essence. These are usually jams, sauces, coulis, and compotes.
Now, regardless of which one you make, they all have texture to them and use real pineapple. Sure, you can add some extract to make the flavor more intense. But, by simply using ripe pineapple, you can achieve a much better effect.
A compote is a mixture of fresh (or dried) fruit that has been chopped and slowly cooked in a sugar syrup. It differs from a jam which is often very smooth and which doesn't contain any juice. A fruit compote essentially still contains pieces of fruit.
A coulis is basically a compote, but it has been pureed and strained to get a smooth mixture. A coulis differs from a jam in that it still has tiny pieces of fruit (for texture), but not so much as compotes do.
Regardless of which consistency and texture of pineapple topping for cheesecake recipe you choose, make sure that it does what you want it to. To make a topping thicker, simply continue cooking it until it has reached the desired consistency. And, to make it thinner, add more water or thin sugar syrup.
Pineapple Garnishes
There are also many pineapple garnishes you can make and add on top of your frosting, glaze, ganache, or sauce.
Some great ideas are candied pineapple slices, dried pineapple pieces, grilled pineapple discs, or freshly-cut or macerated pineapple.
These pieces can also be used to add volume and height to your cheesecake, and of course, add some additional flavor. This is a great area to add unique and subtle flavors, like adding spices while grilling them.
How To Make Pineapple Topping For Cheesecake Recipe – What You Will Need
Ingredients For The Pineapple Ganache
1 1/2 cups heavy cream, room temperature
8 ounces white chocolate, chopped
2 teaspoons pineapple extract
Ingredients For The Pineapple Topping
1 small pineapple, peeled and chopped
1/2 cup granulated white sugar
1 tbsp cornstarch
Equipment
Medium saucepan
Rubber or silicone spatula
Step By Step Instructions For Making This Pineapple Topping For Cheesecake Recipe
Step 1: Make The Cheesecake
You can use a pre-baked cheesecake or make your own from scratch. Whichever you choose, make sure that your cheesecake has been completely cooled and started to set. You can even completely set it before adding the ganache layer.
Just make sure to leave the cheesecake in its springform cake pan so that the ganache can set in an even layer on top.
Step 2: Make the Ganache
To make this pineapple white chocolate ganache, first heat the cream in a medium-sized saucepan. The cream shouldn't boil, but you can bring it to a simmer.
Next, add the white chocolate into a large mixing bowl. Now, slowly add the heated cream over the chopped chocolate and start stirring the ingredients together. The warm cream will melt the chocolate.
Keep mixing until you have a completely smooth and creamy chocolate mixture. Finally, add the pineapple extract and give it a good stir.
Step 3: Add the Ganache to the Cheesecake
Allow the pineapple ganache to cool for 5-10 minutes before pouring it over your cheesecake. Make sure to pour slowly and gently to prevent any air bubbles.
Once poured into the springform pan over the cheesecake, place it back into the fridge and allow it to set for at least an hour.
Step 4: Make the Topping
While the ganache is setting, make your topping. Make sure your pineapple is properly peeled and finely chopped. Then, combine all of the ingredients in a medium saucepan and allow it to simmer until you are happy with the consistency. It should be a chunky topping.
Allow it to cool completely before finally adding the topping over your ganache-covered cheesecake!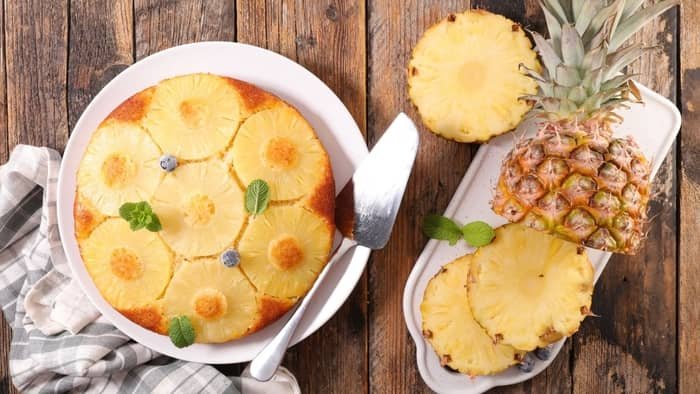 Tips And Tricks For This Pineapple Topping
This ganache topping will cover a 9-inch cheesecake completely and be about 1/4 to 1/2-inch thick. You can double this recipe to create a thicker layer, or halve it to make a wafer-thin covering.
For the topping, you can either cover the entire cheesecake or add dollops of it here and there. This will help you control the amount of pineapple flavor you're adding.
The consistency of the topping can also easily be adjusted. To thicken it,  continue cooking it to reduce the liquid. And, to make it thinner, add some water to help thin it down.
You can also adjust the texture of your pineapple topping by adjusting the size you cut the pineapples into. To make a chunky topping, naturally, you can cut the pineapple into larger chunks. But, for a smoother topping, simply cut the pineapple into fine pieces,
Servings And Preparation Times
| | | |
| --- | --- | --- |
| Preparation time | Cooking time | Servings |
| 10 minutes | 5-10 minutes | 9-inch cheesecake |
Conclusion – Pineapple Topping For Cheesecake Recipe
If you love fruity cheesecake toppings, let us know what we should make next! And, as always, make sure to share this recipe with your fellow cheesecake lovers!

Lindy Van Schalkwyk is a culinary specialist with a background in Advanced Cooking, Advanced Pâtisserie, Media Communications and Nutrition. She has gained invaluable experience in the culinary industry having worked in some of the top restaurants in Africa in 2016 and 2017. Her expertise in nutrition has enabled her to develop recipes for special dietary needs. In 2018, Lindy began working in the Food Media industry, focusing on recipe development, recipe writing, food writing and food styling.