Last Updated on October 17, 2021 by admins
Did you know we are talking about two different types of Cheesecakes? Yes, they're quite different. In the next paragraphs, you'll find some great content about the difference between Cheesecake and New York Cheesecake Styles.
These two types of cheesecakes have been the favorite ones around the world, for the simple fact that their versatility goes well with almost any other flavor. Both of them can also be the protagonist of any reunion or a pretext to organize a party.
Differences Between Cheesecake and New York Cheesecake
Let start by saying that both are delicious, don't get me wrong. I mean… it's cheesecake, nothing can't really go wrong with its tasty flavor.
I don't want to be a total New Yorker, however, one of the main differences is that Mr. New York it's creamier. So, in other words, I could say I am adamant about its superiority above all of the other cheesecake styles.
In the next paragraph, we are listing the differences and some other interesting information about these two. Are you ready?
New York Style Cheesecake VS Regular
Our first guest of honor is:
This cheesecake was created in the 1940s by Evelyn Overton in the City of Detroit, Michigan. David -her son- opened the first Cheesecake Factory Restaurant in 1978 in Beverly Hills, California. Being the most famous cheesecake restaurant in the world.
It has simplicity and a basic personality. It's lighter, sweeter, fluffier, shorter, and ofter flavored with many different ingredients. With an inch or two thick.
Mr. Classic is often topped with candies and all sorts of sweet sauces.
Regular Cheesecake Ingredients
Cream Cheese
Eggs
Sugar
Vanilla
Lemon zest
Graham Cracker Crust
What is New York Cheesecake?
Let us tell you what makes this cheesecake a true New Yorker.
Did you know that the original New York Cheesecake has no graham crackers crumbs bottom? This cheesecake was made popular in New York City by Junior's Restaurant and Bakery. And the main difference between this one and the classic cheesecake differs in its ingredients and therefore, its texture.
Another important thing we need to clarify is, it's also known as Jewish Cheesecake, due to the European Jewish Immigrants brought this dessert to America.
Its personality comes with density, richness, and it has this irresistible smoother texture. New York Style has to be tall -about three or four inches thick-, bronze-skinned, dense, cool, thick, creamy, velvety, or kind of suede, and last but not least, its pores must be very fine.
Mr. New York's personality is governed by its simplicity, purity, and minimalistic style. It's sweet and tangy, it shouldn't be fluffy, dry, or mousse-like at all. We're pretty much looking to achieve that silky smooth taste. And with simple we mean not using the zany toppings, we don't want its tangy flavor to dull.
An important fact about this cheesecake is when using sour cream, this ingredient can keep it smooth if you need to freeze it. So, please don't hesitate in using it. You can freeze it right on the bottom of your springform pan, this can be kept in the freezer for two or three months.
Simply decorate your New York Style Cheesecake with some wild berries in case you want to. We'll often find this at the supermarket topped with strawberries or other fruit.
New York Cheesecake Ingredients
Cream Cheese
Eggs
Egg yolks
Sugar
Heavy Whipping Cream
Sour Cream
Vanilla -Junior's style-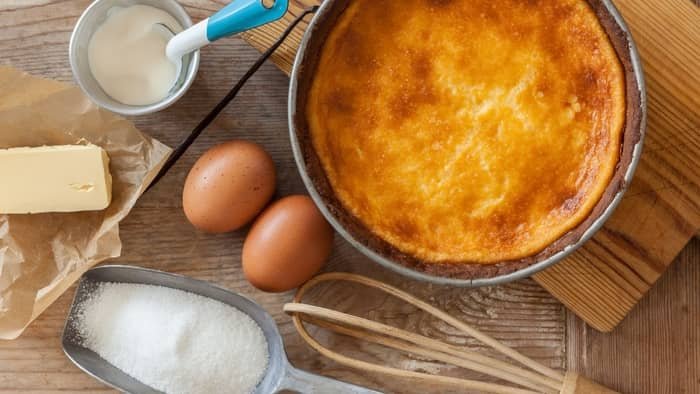 Types of Cheesecake
Cheesecakes are unique and exceptional in all of their many forms, and in fact, there are so many. When you hear the word cheesecake it doesn't necessarily tell you about the texture, or if it comes with a crust, or if this crust is made out of crackers or pie-style. Even the topping, there are also many of them you can use!
Get ready for the breakdown!
New York Cheesecake Style
"Regular" Cheesecake
No-Bake Cheesecake
Ricotta Cheesecake -or any other non-cream cheese-
Cotton Cheesecake -Japanese Style-
Vegan Cheesecake
Savory Cheesecake
We've already talked about Mr. New York and Regular or Classic Cheesecake, now it's time to give others the importance they deserve. So let's begin with the following cheesecake; Mr. No-Bake.
This cheesecake involves just mixing and chilling. It's more homogeneous in texture and is stabilized with gelatin. Which means this is easier and faster to prepare.
Therefore, it should be left to refrigerate for at least 1 hour before serving, because it behaves like jelly. You can play with different filling flavors and cookies as a base. Such as the popular one; the no-bake cookies and cream cheesecake.
But when it comes to fillings, creativity is definitely immense.
4. Ricotta Cheesecake -or any other non-cream cheese-
There's an ancient Roman Cheesecake recipe, made of ricotta and also included bay leaves and honey. This recipe is less creamy and a little bit drier. Some of these can be granular.
An important fact about this cheesecake is that you need to make it a day ahead and if you want a better taste and texture -the top of the top-, feel free to make your own homemade ricotta. It may sound difficult, but it's actually easier than you think.
You can also find cheesecakes made with German quark and cottage cheese. Another perfect substitute for cream cheese or ricotta, it's Mascarpone. This behaves much more like cream cheese. Try them all!
5. Japanese "Cotton" Cheesecake
Also known as Soufflé Cheesecake. The lightest and airy of them all. Some call it the "edible cloud" and the prize of responsibility for this is for: the whipped egg whites into the batter.
It has no crust and my grandma used to call it "Angel Food Cheesecake". Have you seen it wiggle?
6. Vegan Cheesecake
For obvious reasons, non-dairy folks love it! Made with softened soaked cashews blended with coconut milk. You can also use silken tofu instead, or any vegan cream cheese substitute.
7. Savory Cheesecake
This is the salty king version. Perfect for a buffet at a fall party. And yes, you can let your imagination run with lots of flavors. It's like a quiché but with salty crackers bottom instead.
Read more about Cherry Cheesecake Pudding Shots
Let us know which is your favorite one in the comment box below. Enjoy them all!
Griselda is an experienced pastry chef and baker with a passion for creating delicious desserts. She has been cooking and baking for over ten years and loves the creative process of creating something special for her friends, family, and customers. Griselda has a special talent for creating beautiful and tasty desserts like cakes, pies, and cookies. She is experienced in a variety of baking techniques and loves to experiment with new flavors and textures. When Griselda isn't in the kitchen, she loves to spend time with her friends, family, and her two cats.