Last Updated on October 6, 2022 by Griselda M.
If you're looking for the best place to buy cheesecakes, our list includes grocery stores, restaurants, and some of the best bakeries around!
All of our options today provide excellent quality cheesecake at varying, yet still affordable prices. And, whichever option you choose should still meet your needs best!
What is The Best Place To Buy Cheesecakes?
Cheesecakes are so popular these days that you can find them virtually everywhere! The trick is finding a good quality cheesecake at an affordable price. But, once you have figured out exactly what you like and don't like in a cheesecake, you can narrow down exactly where to start looking.
Some easy places to start looking for cheesecakes include your local grocery store, supermarkets, restaurants, bakeries, and even online. Each of these places will provide you with different options and have its own pros and cons.
For example, a bakery's cheesecake will be of very high quality. Bakeries also tend to offer more unique flavors, and you can all but guarantee that it is freshly made. However, these come at a much higher price (as compared to grocery store cheesecakes) and often have to be ordered in advance, making it less convenient.
Then, if you look at buying cheesecake from grocery stores, you are likely to find a wide range of options in flavors, sizes, and even dietary restrictions. These are also often a lot more affordable than buying cheesecake anywhere else. However, these cheesecakes are often old, contain a ton of preservatives and stabilizers, and aren't generally high in quality.
All you have to do is weigh the pros and cons and figure out what works best for you.  When looking at exactly where to buy good cheesecake, whichever is most convenient for you and ticks all of your boxes, is the best place.
Now, all that being said, there are a couple of places you can start your search! We will look at the best place to buy cheesecakes including supermarkets or chain grocery stores, bakeries, and restaurants.
Where is The Best Store-Bought Cheesecake Sold At?
As we have mentioned above, there are a couple of places you can buy cheesecakes. And, each will its pros and cons. But, here are some of the places where we believe you can find the best cheesecakes at an affordable price.
Trader Joe's
Who doesn't love Trader Joe's? They always have a wide variety of unique products available and with their many locations, these are easily accessible. And, you are almost guaranteed to find your favorite quality cheesecake at an affordable price!
One of our favorite cheesecakes from Trader Joe's is their New York Deli-style Baked Cheesecake. We have died and gone to heaven! This cheesecake has just the right amount of tang to it, with rich vanilla flavors and an uber creamy texture.
And, this baked cheesecake has a crispy crust that is buttery and gives a nice variation to the creamy texture. Now, this cheesecake is a bit smaller than a regular 9-inch cheesecake, but that's great if you don't have many guests.
Wholefoods
Wholefoods were close in the running for the best supermarket cheesecake! We love the texture and mouthfeel of their New York cheesecake. It's dense yet fluffy with a creamy mouthfeel. And, the filling itself has a well-balanced sweetness and tanginess to it.
But, what really makes this store a great option is that they sell individual pre-packaged cheesecake slices, perfect for date night or dinner for one!
Costco's
We've all walked past the cheesecake section before and started drooling! Their cheesecake is pretty close to homemade ones and has a similar consistency, texture, and pure flavors. And, if you are unsure, they often have tiny tasters available for you to try!
This cheesecake is topped off with some delicious whipped sour cream to add some additional tanginess, as the cheesecake itself isn't all that sweet.
But this cheesecake is huge, making it the perfect option when you are serving a crowd. It can serve about 16 and still comes at a very affordable price!
Bakeries Who Sells Cheesecake
We love cheesecakes made by bakeries. Your flavor options are usually a lot more unique. And, the cheesecakes are much fresher and definitely of higher quality. But, it comes at an affordable price.
Our bakeries listed below have world-famous cheesecakes that won't break the budget!
This cheesecake has been described as a slice from heaven! It has a light airy texture that is unbelievably fluffy. And, you can expect traditionally sweet pure vanilla flavors with a hint of lemon.
The bases of a lot of their cheesecakes are made with either graham crackers or dark chocolate cookies.
Zanze's Cheesecake, San Franciso
Although New York is often associated with the best cheesecakes in the world, so many other places serve up cheesecake just as good, or even better! San Francisco is such a foodie destination, so you are bound to find top-notch cheesecakes there.
Zanze's cheesecake shop sells very delicate cheesecakes and light! The shop owner Zanze has been making cheesecakes for over 36 years! So, you know he knows exactly what he's doing!
Restaurants
When it comes to a variety of flavors, and sizes, all at affordable prices, then naturally The Cheesecake factory comes to mind. This chain restaurant offers over 34 options on its menu, making it hard to narrow down exactly what you'd like.
And, with their many locations and even online delivery options, they are by far one of the most convenient options available! Even in a pinch!
Maurice, Portland
At the exquisite restaurant Maurice, you will find cheesecake with a different approach, but still so incredibly good! Their black pepper cheesecake is light and creamy, yet the black pepper cuts through a lot of the fattiness, giving it an interesting mouthfeel.
And, it is definitely a fancier option than a chain restaurant or fast-food drive-thru!
In Conclusion
If you have tried any cheesecakes from places in our list above, let us know what you think about them. And, maybe even let us know if you think we missed an amazing option!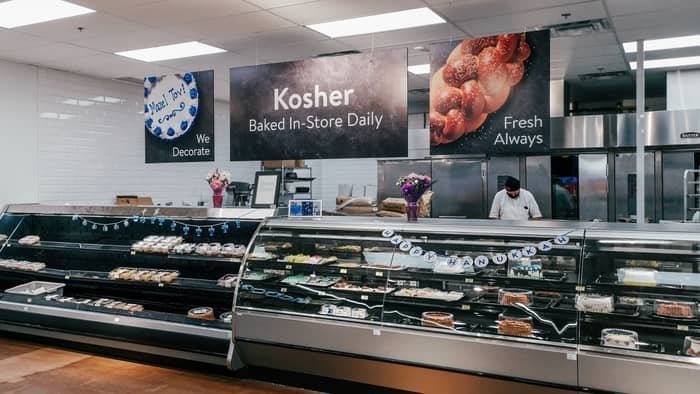 Read more about Where To Buy Red Velvet Cheesecake – Best Locations
FAQs
Which is the best supermarket cheesecake?
Personally, we love the cheesecakes offered at Trader Joe's, Costco, and Wholefoods. But, at the end of teh day, if you found your favorite cheesecake at your local gas station, than that is all that matters.

Lindy Van Schalkwyk is a culinary specialist with a background in Advanced Cooking, Advanced Pâtisserie, Media Communications and Nutrition. She has gained invaluable experience in the culinary industry having worked in some of the top restaurants in Africa in 2016 and 2017. Her expertise in nutrition has enabled her to develop recipes for special dietary needs. In 2018, Lindy began working in the Food Media industry, focusing on recipe development, recipe writing, food writing and food styling.