Last Updated on October 17, 2022 by Zara R.
Wondering where to buy cheesecake bites? It seems like it's sold out everywhere! So, we created a list that will increase your odds of finding some!
What Are Cheesecake Bites?
Cheesecake bites are delicious sweet treats made from regular baked or unbaked cheesecake recipes. The only difference is that they are much smaller – you may even say bite-sized!
But all jokes aside, these treats are seriously addictive. Once you have one, you cannot stop! This explains why it is so incredibly difficult to find cheesecake bites in stores.
So, we have compiled a list of your best options. They all offer a variety of products. But, in full disclosure, the cheesecake bites products sell out shockingly quickly. So, even though these stores are your best bet, you aren't guaranteed to find what you want.
You will also see that we didn't include the famous Cheesecake Factory cheesecake bites. That's because we haven't seen these on the market in a very long time. We aren't even sure if Cheesecake Factory still makes them. It's not in the catalog of big supermarkets or even on their website.
So, for where to buy cheesecake bites, we decided to write about what we can find.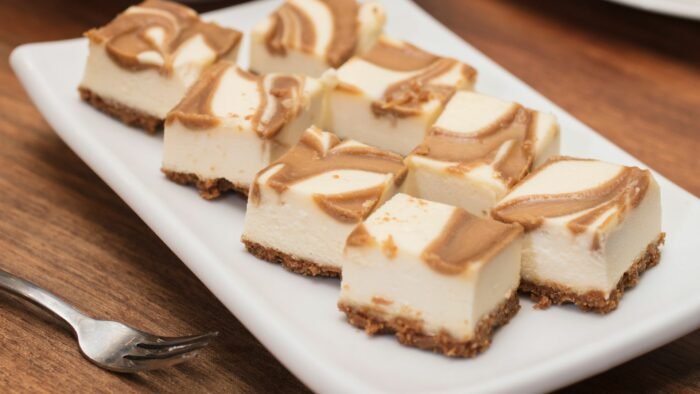 Where To Buy Cheesecake Bites
Without further or do, here is our list of where to buy cheesecake bites. All of the shops we mention below are the best options for a variety of products. Naturally, you can also look at bakeries and restaurants, but you won't necessarily find what you're looking for.
1. Walmart
Walmart is one of the best places to start looking for these sweet treats. They are well-known for stocking a huge variety of cheesecake products, and naturally, even have a selection of cake and cheesecake bites.
One of their best-selling cheesecake bite products is the 24-pack Great Value Variety Pack. It includes flavors like caramel, chocolate chip, white chocolate, raspberry, and New York-style cheesecake.
What makes Walmart a great option is that they have over 10 000 stored worldwide, most of them concentrated in the United States. Walmart also gives you the option of buying these bites in-store, ordering them for delivery, or ordering them and picking them up later.
This gives you a ton of flexibility in choosing what works best for you. And, it also allows you a variety of options to choose from. In terms of the best place where to buy cheesecake bites, Walmart is your best option.
2. Target
Target also offers cheesecake bites. However, their selection is quite limited. Or at the very least, it's difficult to find the exact product you are looking for.
Nevertheless, the one cheesecake bite product we can usually find is this Cheesecake Bite Collection by Favorite Day. It includes 12 delicious bites that are flavored as New York cheesecake, strawberry swirl, and chocolate swirl. This specific product is also made with real cream cheese, so you know it's good.
Target also offers delivery on their products, so you can ensure you order it before it sells out.
3. Costco
Costco definitely sells cheesecake bites and has quite a range of options available. However, we cannot find them online and we have no idea why.
This supermarket sells cheesecake bites from Cheesecake Factory, Eli's, and Juniors. We haven't recently seen all of these available, but we assume it's one of those situations where they sell out quicker than they can be stocked.
So, if you do manage to get your hands on some, definitely stock up!
4. Amazon
We know everyone isn't a fan of buying products online. Luckily, Amazon has released a new concept called Amazon Go, which is a physical store you can go to. The downside is that there are only 42 stores in the world located in the United States and the United Kingdom.
But, you can still buy these cheesecake bites online. And, this way your options are also a lot less limited.
There, you will find a variety of fresh and frozen cheesecake bites ranging in flavor and price.
But, keep in mind, that because these items are sold from bakeries, they do also sell out quickly.
In Conclusion
Cheesecake bites are not easy to find. So, if you ever do manage to get your hands on some, grab them instantly! Otherwise, you can also have a look on our site for some homemade cheesecake bites recipes to try.
But, hopefully, you found the list of where to buy cheesecake bites handy and you won't have to make some from scratch. While the homemade versions are tasty, they take a lot of time to make.
FAQs
Does Costco have cheesecake bites?
Costo does have cheesecake bites for sale. These brands they usually sell (at the time of writing this article) include Junior's Mini Cheesecakes and Eli's Cheesecake Bites. Both of these are reasonably priced and usually available in-store. Otherwise, you can just order them online. They are also known to stock Cheesecake Factory Cheesecake Bites.
Does Cheesecake Factory sell cheesecake bites?
Cheesecake Factory is arguably the setter of trends when it comes to cheesecakes. So naturally, they will have cheesecake bites available. These bites are sold in a mixed flavored box which includes caramel swirl, raspberry swirl, and chocolate swirl. That being said, we have a really difficult time finding any these days.
How long can cheesecake bites sit out?
Cheesecake bites are more often than not baked. That makes them more shelf stable. But, that still doesn't mean that they can sit out indefinitely. Generally, cheesecake bites can only sit out for 2 hours at the most. Anything longer and you are exposing the cheesecake to harmful bacteria. This could cause them to quickly spoil and grow mold.
How do you store cheesecake bites?
Storing cheesecake bites is easy. But, you still need to follow the rules. Always keep them inside an airtight container. It will prevent them from coming into contact with foreign objects and odors. Then, always store your cheesecake bites in the fridge (or freeze them). The fridge will help avoid bacterial growth and the ingredients from going rancid.
Can I freeze cheesecake bites?
Cheesecake bites are surprisingly shelf stable. And they freeze exceptionally well. These bites can first be frozen on a flat surface. Then, you can place all of them into an airtight container. Wrap the container in foil to prevent excessive freezer burn. And finally, label the container so you don't forget about them. Store them for up to 6 months.

Lindy Van Schalkwyk is a culinary specialist with a background in Advanced Cooking, Advanced Pâtisserie, Media Communications and Nutrition. She has gained invaluable experience in the culinary industry having worked in some of the top restaurants in Africa in 2016 and 2017. Her expertise in nutrition has enabled her to develop recipes for special dietary needs. In 2018, Lindy began working in the Food Media industry, focusing on recipe development, recipe writing, food writing and food styling.