Last Updated on May 10, 2022 by Griselda M.
We have the ultimate list of toppings for plain cheesecake! Our categories are incredibly versatile, easy to make, and will elevate your cheesecake.
By giving categories instead of specific toppings, you can use it as a guideline to help pair flavor to your specific cheesecake. It also means that you have a ton of room for creativity and experimentation. So, what are you waiting for?
What is a Plain Cheesecake?
Arguably everybody has had a slice of cheesecake. Or at the very least knows what a cheesecake is. However, many people have a big misconception about what exactly regular or plain cheesecakes taste like.
Your average cheesecake (baked or unbaked) is made with cream cheese, lemon juice, vanilla extract, and sugar. Baked cheesecakes also have eggs (but they don't add any or much flavor).
This combination of flavors (when using a great recipe) creates a well-balanced flavor profile of sweet and tangy flavors. Depending on the amount of lemon juice added, it can also have a noticeable sour flavor to it.
If you are making a cheesecake that contains sour cream or buttermilk, it will also have a more sour tart flavor. But, they are still considered plain cheesecake.
The bottom line is that any cheesecake with flavors other than lemon and vanilla (or other similar sour flavors) isn't a plain cheesecake.
How to Find Flavors That Pair Well With Plain Cheesecake
Because the flavor of cheesecake is so incredibly neutral, it is extremely easy to find toppings for plain cheesecake. In fact, the world is your oyster!
The challenge comes in with creating a well-balanced pairing. What we mean by this is that the flavor of the pairing shouldn't overpower the naturally present flavors of the cheesecake. But, it should also not be so dull or bland that you barely notice it.
So, while it is easy to pair any kind of berry with a plain cheesecake, it isn't as straightforward to make the flavors compliment each other well.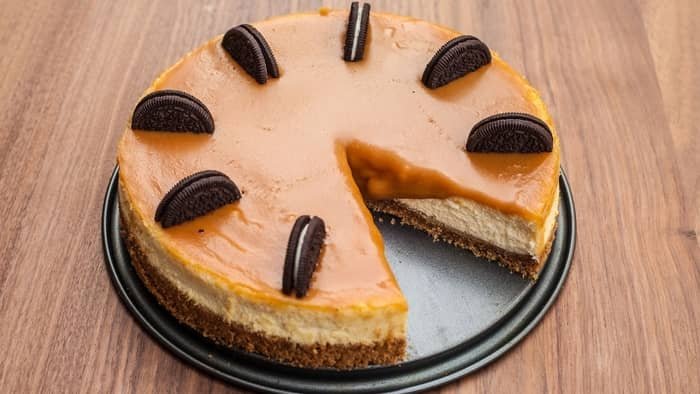 Where to start with pairing toppings for plain cheesecake?
If you feel very overwhelmed right now and have no idea where to start, we have some general guidelines that will help specifically with plain cheesecakes. These tips are to create a balanced pairing.
Overly sweet flavors should be balanced with slightly bitter flavors in your topping. Only a drop will make a world's difference.
Sweet and sour balance each other well. So, pair your topping accordingly. Choose a sweet topping for very tart cheesecakes and a tart topping for very sweet cheesecakes.
Sweetness can also be balanced with a slight saltiness. This can be a salted caramel topping or the addition of delicious pretzel garnishes.
Best Toppings for Plain Cheesecake
Below, we have compiled a comprehensive list of delicious no-bake cheesecake toppings and baked cheesecake toppings. And, what makes each of these amazing options is that you can easily adapt them to your liking.
You can make them a little sweeter, add a pinch of sea salt flakes, or add more lemon juice. This is how you create a balance between your topping and specific cheesecake recipe.
1. Berry coulis, sauces, or compotes
This may seem like an incredibly broad category of toppings, but it just describes the various consistencies of these toppings. You can make one base recipe, and depending on how you prepare the fruits, you can get a ton of different toppings.
A compote is essentially made with whole fruits that are cooked in sugar syrup. A coulis is made with cooked fruits only that have been pureed and strained to remove any pips. And finally, a sauce is used to describe a wide variety of textures or a mix of textures.
Virtually all berries pair well with plain cheesecake. The only ones we would be cautious with are gooseberries, cranberries, elderberries, and chokeberries. These will require great skill to pair well.
2. Caramel drizzle
We are obsessed with a good caramel drizzle. And it is surprisingly easy to make. What makes this drizzle even better is that you can alter the intensity of the caramel flavor.
The darker you make the caramel, the more bitter and deeper the flavor becomes. You can also add a little bit of butter or cream to make it light.
And, you can also add some sea salt flakes to make a salted caramel sauce or drizzle.
3. Fresh fruit toppings for cheesecake
This can be anything! From berries to citrus, to stone fruit, or tropical fruit. The main thing to remember is to make the topping comfortable to eat. You won't enjoy cheesecake if you have to try and break through an entire slice of pineapple or half a peach.
So, you can create beautiful thin slices, halved berries, cubed fruit, and similar bite-sized cuts.
4. Chocolate topping options (ganache and garnish)
Chocolate ganache is one of the best toppings for plain cheesecake. But, be mindful of which chocolate you pair with which cheesecake.
If your plain cheesecake has an overwhelmingly sweet flavor, do not use white chocolate. Balance the sweetness with semi-sweet dark chocolate. If the cheesecake has an overwhelming sour flavor, then white chocolate will help balance it.
You can also add chocolate shavings, bark, or chips for garnish.
5. Crushed cookies or crackers
Crushed cookies will help add a delicious crunch to a smooth and creamy cheesecake. Not to mention how visually appealing it is! You can also combine a few different kinds of cookies to add some color.
And, by adding some salted pretzels or crackers, you can balance the sweetness too.
6. Whipped topping
So, this category includes any ingredient that can whip nicely. The texture of these works amazing for toppings for plain cheesecake. You can whip regular cream, coconut cream, or make a meringue.
It is also incredibly easy to flavor with an extract or an essence. And, you can also slightly sweeten the whipped topping using powdered (confectioners) sugar or caster sugar.
And, if you're feeling extravagant, you can make gourmet cheesecake toppings for plain cheesecake by blow torching meringue on top of your cakes. It will help give it a slightly burnt, more complex flavor!
In Conclusion – Toppings for Plain Cheesecake
As you can see, we have no shortage of toppings for plain cheesecakes! And, with our guidelines, you'll be able to mix and match as you'd like! Make sure to share this with your fellow bakers to help them explore their creativity!

Lindy Van Schalkwyk is a culinary specialist with a background in Advanced Cooking, Advanced Pâtisserie, Media Communications and Nutrition. She has gained invaluable experience in the culinary industry having worked in some of the top restaurants in Africa in 2016 and 2017. Her expertise in nutrition has enabled her to develop recipes for special dietary needs. In 2018, Lindy began working in the Food Media industry, focusing on recipe development, recipe writing, food writing and food styling.