Last Updated on February 18, 2022 by Guillermina
Are you looking for the best ways how to decorate cheesecake with melted chocolate? Well, we have the best chocolate ganache recipe for you!
This dark chocolate ganache pairs well with almost any type of cheesecake and balances the flavors well. It also has a luxurious texture and rich flavor. Furthermore, you can make this recipe using any type of chocolate really.
Today's tutorial on how to decorate cheesecake with melted chocolate will focus on the chocolate ganache method, however, we will also cover some other fun techniques you can try.
How To Decorate Cheesecake With Melted Chocolate
There are hundreds of incredibly delicious and easy recipes you can make for cheesecake using melted chocolate. And, it can even be as simple as drizzling some melted white, milk, or dark chocolate over freshly baked cheesecake!
You can also make a wide variety of chocolate toppings for cheesecake. Some of our favorites are chocolate curls, chocolate bark, and chocolate lace. These types of chocolate decorations not only show a ton of skills but also add a touch of elegance to the cheesecake. You can have a look at some more ideas in this article.
However, not everyone has the equipment or patience to make these garnishes. So, we have assembled a list of the best types of chocolate topping for cheesecake.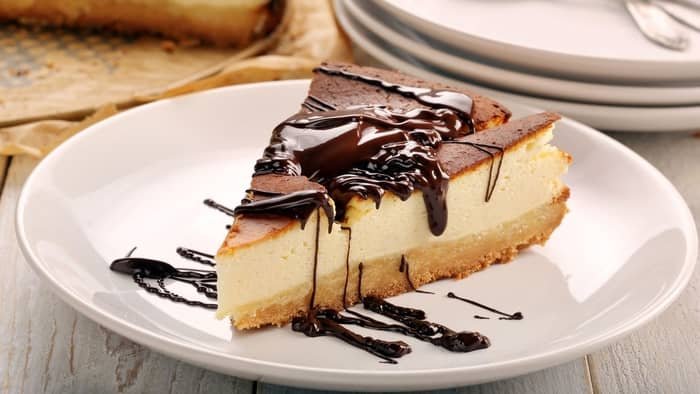 Chocolate Ganache
A chocolate ganache is an excellent type of chocolate garnish for cheesecake that has an adjustable consistency. It is made with a combination of melted chocolate and cream.
The ratio of chocolate to cream is what determines the consistency of the cooled product. For example, if you use more chocolate than cream, your ganache will be very thick and set stiff.
But, if you have a higher ratio of cream than chocolate, you will have a more pour-able ganache that you can even use to create a dripping effect.
This ganache can be made using any type of chocolate and any intensity of it. But, we would recommend only using heavy cream. This type of cream will help give a rich and smooth finish to the garnish.
Chocolate Glaze
A chocolate glaze usually refers to a type of chocolate ganache, however, it is much runnier and often has a shiny finish to it.
Naturally, chocolate glazes have a higher ratio of cream (or milk) than chocolate.
But, you can also make a chocolate mirror glaze. This glaze has an extremely glossy finish that resembles a mirror. It is made using a combination of melted chocolate, water, and gelatin.
Chocolate Drizzle for Cheesecake
A chocolate drizzle is basically just melted chocolate. The thin consistency allows you to pour over the chocolate in very decorative ways using a flicking motion with your wrist.
You can create beautiful circular patterns, zig-zag shapes, and even a weave-like garnish. But, if you don't feel like doing something elaborate, you can also simply pour a thin coating over the cheesecake to cover the surface.
Using a drizzle is also an excellent way to add additional garnished like chopped nuts and fresh berries so their color can pop and they can also stick to the cheesecake.
What You Will Need For This Chocolate Ganache Cheesecake Glaze
Ingredients
2 cups whipping cream (or heavy cream)
12 ounces dark chocolate bar, chopped
1 teaspoon pure vanilla extract
Equipment
Mixing bowl
Medium saucepan
Rubber or silicone spatula
Pouring jug
Step-by-Step Instructions For Making This Chocolate Ganache Cheesecake Garnish
Step 1: Prepare your Cheesecake
First, you have to prepare the cheesecake you are using. Whether or not you are using a store-bought cheesecake, or homemade baked or no-bake cheesecake, you have to let it cool completely before pouring the glaze over it.
If you are making a baked cheesecake that has to set in the fridge, you will have to bring it back to room temperature after it has been set.
Step 2: Make the Chocolate Ganache
First, place the chopped chocolate into a large heat-proof mixing bowl.
Then, in a medium saucepan, add the cream and bring it to a boil. Once boiling, remove it from the heat and pour it over the chopped chocolate. Allow the mixture to sit for about 1 minute.
Then, mix the chocolate and cream together using a clean rubber or silicone spatula. Keep mixing until you have a completely smooth and lump-free thick mixture.
Step 3: Pour the Ganache Over the Cheesecake
Next, decant the dark chocolate ganache into a pouring jug. Allow the mixture to cool for another minute or two before pouring.
While the chocolate ganache is sitting, you can remove the springform pans' sides if you want to. This will create a dripping effect with the ganache. But, if you keep it on, the ganache will set in an even layer on top of the cheesecake.
Once your ganache has sat for a while, you can now pour it over your cheesecake. Allow the ganache to set in the fridge overnight.
Tips and Tricks on How to Decorate Cheesecake with Melted Chocolate Ganache
You can use any type of chocolate that you want. We simply prefer using dark chocolate, as it gives a nice balance to the flavor profile of sweeter cheesecake. However, you can easily substitute it with milk or white chocolate. And, when using white chocolate you can even color it with food coloring.
You have to allow the cheesecake to cool completely or come back to room temperature before pouring over semi-hot melted chocolate. Otherwise, the sudden temperature change may cause the cheesecake to instantly crack.
If your chopped chocolate hasn't yet fully melted when you initially stirred it, then you can place the heat-proof bowl in the microwave for 10-seconds on high heat. After that, give it a good mix until the chocolate has been fully dissolved. Continue heating it in 10-second intervals only. You don't want to heat the chocolate too much and cause it to seize.
You can actually also make this recipe just using a microwave. First, pour the cream into a heat-proof bowl. Then, heat it until it starts simmering. Allow the heated cream to cool for a couple of minutes. Then, add the chopped chocolate and stir immediately and quickly to prevent it from seizing.
Conclusion – How To Decorate Cheesecake With Melted Chocolate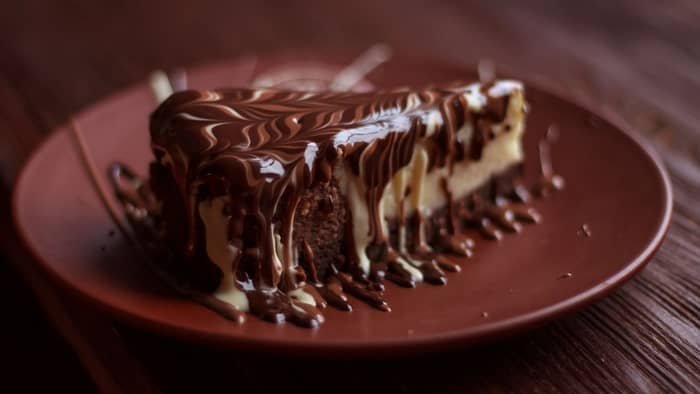 If you wanted to know exactly how to decorate the cheesecake with melted chocolate, we've given you a few options to choose from and a fantastic fool-proof ganache recipe to try! Let us know how your chocolate decorating went and as always, give this recipe a share with your fellow chocolate lovers.

Lindy Van Schalkwyk is a culinary specialist with a background in Advanced Cooking, Advanced Pâtisserie, Media Communications and Nutrition. She has gained invaluable experience in the culinary industry having worked in some of the top restaurants in Africa in 2016 and 2017. Her expertise in nutrition has enabled her to develop recipes for special dietary needs. In 2018, Lindy began working in the Food Media industry, focusing on recipe development, recipe writing, food writing and food styling.