Last Updated on April 16, 2022 by Griselda M.
We have the ultimate new cheesecake cupcake recipe for you! These brownie bottom cheesecake cupcakes are delicious, easy, and exciting!
They are made with a delicious decadent brownie base, topped with an uber vanilla cheesecake filling. And, you can serve them with a wide variety of toppings and garnishes. We like ours with freshly whipped cream, berries, and refreshing mint leaves. So, what are you waiting for? Ready to make these drool-worthy treats?
Why We Love This Cheesecake With Brownie Crust Cupcakes
We are absolutely obsessed with this recipe. As we have mentioned, these brownie bottom cheesecake cupcakes are a new, fun, and exciting way to spruce up your cheesecake game. And, they are surprisingly easy to make.
This recipe is also incredibly versatile, and you can either use a homemade brownie recipe or use a boxed pre-mix. You can even use a cake pre-mix if you really want to!
These cupcakes can be served at birthday parties, kitchen teas, new years platters, or as the new family-favorite dessert!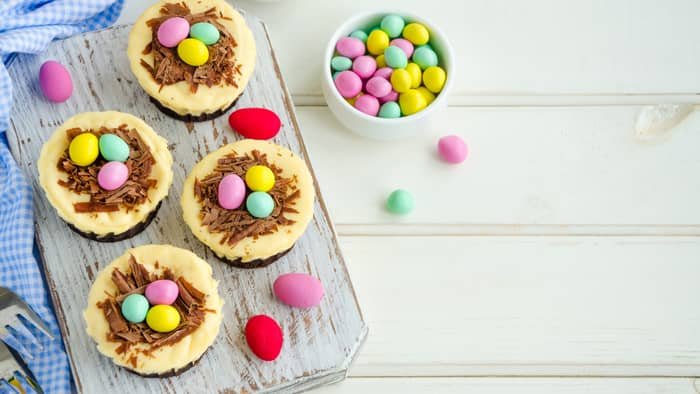 What You Will Need To Make These Brownie Bottom Cheesecake Cupcakes
Ingredients for the brownie crust
1/4 cup salted butter, room temperature
1/3 cup milk chocolate, chopped
1/4 cup white caster sugar
1 large egg, room temperature
1 teaspoon vanilla extract
1/3 cup cake flour, sifted
Ingredients for the brownie cheesecake cupcakes batter
8 ounces full-fat cream cheese, softened at room temperature
1/4 cup caster sugar
1 large egg, room temperature
1 teaspoon vanilla extract
1/4 cup sour cream, room temperature
Ingredients for the frosting
Whipped cream
Fresh berries
Fresh mint leaves
Equipment
2 x mini muffin trays or cupcake pans
24 cupcake liners
Measuring cups and spoons
Mixing bowls
Microwave
Electric hand or stand mixer
Wire cooling rack
Trudeau Structure Silicone Muffin Pan
Step-by-step Instructions On Making These Brownie Bottom Cheesecake Cupcakes
Step 1: Prepare the equipment
To start, preheat your oven to 350ºF (180ºC). Then, line a cupcake pan or mini muffin tray with 24 cupcake liners. You can also grease the cups with non-stick spray or melted butter.
During this prep time, also make sure that your ingredients are measured out correctly and that they are all at room temperature.
Step 2: Make the brownie crumb
To make the brownie crumb, start by combining the butter and chocolate in a microwave-safe mixing bowl. Then, heat it in 20-second intervals stirring in between each. Continue until all of the chocolate and butter are melted and create a uniform mixture. When finished, set the mixture aside to cool slightly.
Next, combine the caster sugar, egg, and vanilla extract in a separate bowl. Once the chocolate mixture has cooled, add the sugar mixture and whisk until you get a smooth batter.
Finally, add the sifted flour and make sure to mix until it is just combined.
Divide the brownie batter between the 24 cupcake liners, adding roughly 2 to 3 teaspoons of batter per cup. Then, bake them for only 6-8 minutes, or until they just begin to set. Remove them from the oven and allow them to cool.
Step 3: Make the cheesecake batter
To make this uber creamy tangy cheesecake batter, first, cream together the softened cream cheese and sugar. Once the mixture is super fluffy and the sugar has dissolved, you can add the egg, vanilla, and sour cream.
Only mix the ingredients until they are just combined. Then, again, divide the cheesecake batter between the 24 cups. You will need to add about 1 tablespoon of batter per cup.
Step 4: Bake and cool the brownie bottom cheesecake cupcakes
Bake the brownie bottom cheesecake cupcakes for 12-15 minutes, or until they are almost set.
Once fully baked, switch the oven off and crack the door open. Then, allow the cupcakes to cool inside the cooling oven for 30 minutes. Remove them from the oven and place them on a wire cooling rack to cool for another 30 minutes to an hour.
Finally, wrap the entire tray and place it inside the fridge to set for at least 4 hours.
Step 5: Assemble the mini brownie cheesecake
Once your cheesecake cupcakes have cooled and set, you can take them out and garnish them with pre-whipped cream or hand-whipped heavy cream.
Then, right before garnishing, add some fresh berries and a fresh mint leaf or two.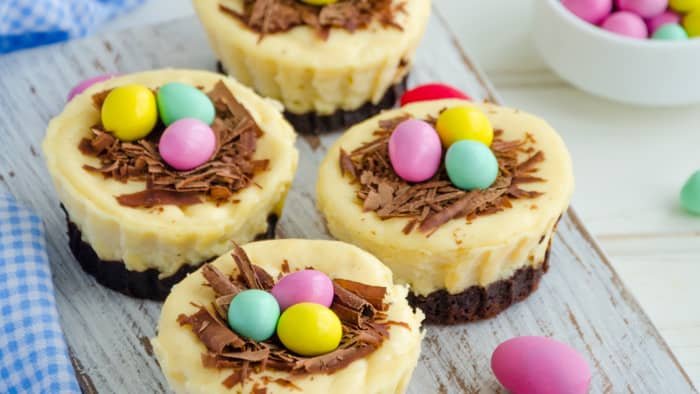 Tips And Tricks For Making These Brownie Bottom Cheesecake Cupcakes
You can also use a box brownie pre-mix to save yourself some time. Just make sure to also bake these for only a quarter of the time, otherwise, they will completely overbake!
Always make sure that all of your ingredients are at room temperature. This way they will mix a lot easier, make a lump-free mixture, and help prevent overmixing.
You can substitute sour cream with heavy cream if you don't like tangy cheesecakes. The heavy cream should also be at room temperature.
You can alter the size of these

brownie bottom cheesecake cupcakes. To make bite-sized mini cupcakes, you can use the mini cupcake pans. Or, you can make muffin-sized treats using bigger pans.

Your brownie bottom cheesecake cupcakes have finished baking when the center still slightly jiggles. The residual heat from the oven will continue baking the cupcakes while they cool. Do not overbake them, as this can cause them to become dry and crack.
While the cooling process may seem exceptionally lengthy, it is an essential step that you shouldn't skip. Any sudden changes in temperature (at any point in the process) will cause the cheesecake part to crack. So, just be patient, sit back, and relax.
For the toppings, we prefer using an easy whipped cream topping with fresh berries and mint leaves. However, you can also use alternative toppings such as a ganache frosting or a flavored buttercream. You can also garnish these cupcakes with more chocolate, sprinkles, or candy-like mini marshmallows.
Preparation Times And Servings For Cheesecake Brownie Bites
Wrapping It Up – Brownie Bottom Cheesecake Cupcakes
Trust us – don't even hesitate to make these incredibly decadent brownie bottom cheesecake cupcakes. They are well worth the time and effort! And, if you did give it a try, let us know what you think about them in the comments below!

Lindy Van Schalkwyk is a culinary specialist with a background in Advanced Cooking, Advanced Pâtisserie, Media Communications and Nutrition. She has gained invaluable experience in the culinary industry having worked in some of the top restaurants in Africa in 2016 and 2017. Her expertise in nutrition has enabled her to develop recipes for special dietary needs. In 2018, Lindy began working in the Food Media industry, focusing on recipe development, recipe writing, food writing and food styling.